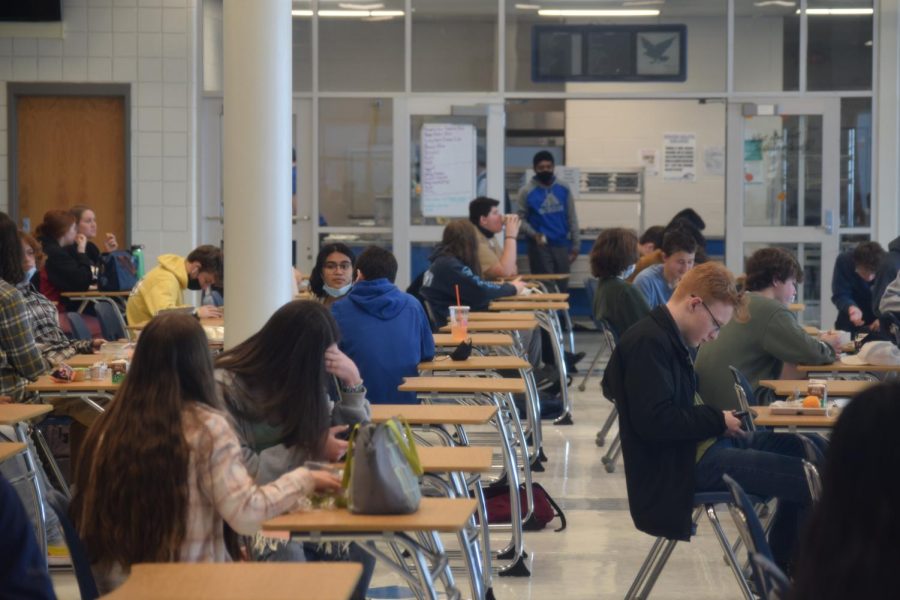 Hawk photo
Some Stephen Decatur High School students say they are feeling upset and annoyed that the cafeteria is overcrowded during some lunch shifts, and that they are not able to sit next to friends during their only socializing block.
The reason why students cannot sit next to their friends at lunch is because of the closing of the small gym for lunch. This lack of space is created by the desks being spread out due to COVID. Students get told by administrators to move their desks back over the tape marks on the floor when they try to move closer towards their friends and fellow classmates 
"Lunch is the best part of my day," said junior Oliver King. "That my only free time and when I cannot sit with my friends, it ruins it."
Before the pandemic, the cafeteria had oversized circular tables that could seat as many as 12 students at a time. There were eight lunch lines open, so students could get their lunches and start eating in roughly five minutes rather than 15, according to Assistant Principal Leland Green. 
"We really do not know when we will bring back the big tables in the cafeteria. The staff team and I are really hoping that we will have (tables) the next school year. It nice to see our students engaging with others," Green said.
Because of COVID-19, Decatur had to socially-distance students for their safety and the staff. Now that mostly all students are back in school, including the monster-sized freshman class, there isn't enough room for all students to fit safely.
Decatur's administration has decided to close the small gym for lunch because there is now a gym class scheduled to be in the small gym, according to Green.
"The administration feels as if there is enough room in the cafeteria for students and on nice days, students will be able to sit outside and eat lunch too," he said.
The small gym accounts for 45 to 75 students during lunch periods. When students cannot sit in the small gym for lunch, they have to find somewhere in the cafeteria to sit.
Decatur junior Degan Risser wondered aloud: if the cafeteria is already full, how are 75 more students going to fit?
"Mr. Hill is always telling me to sit down because I have to get out of my seat to talk to my friends. We can never get seats near each other like we did a last semester," Risser said.
As the school still must follow COVID protocols, the administrators still must monitor students being three feet away from each other, and make sure they are still wearing their masks, according to Green.
"We have to tell students to sit down," he said, "because when they are out of their seats without masks on, and if the student has COVID and doesn't know, it can create more close contacts." 
Students at Decatur say they are excited to be back in school and are not looking forward to going back to online learning.
If we can avoid being sent home due to COVID or being in close contact with someone who has COVID, then the school administration is going to do their best to make sure that happens, according to Assistant Principal Trevor Hill.
"We do not mean to sound sudden when telling students to go back to their seats," Hill said. "We are all just doing our best when it comes to making sure all of our students are safe and healthy."