Spotlight On: Lilly Devereaux, Senior Class President
Lilly Devereaux ran for class president this year at Stephen Decatur High School and, to her surprise, she won the election. She has been the senior class president all year and will give the traditional class president speech at graduation.
"It started off as a joke with my friends. Then, after really thinking about it, I seriously looked into who was already running, and were they really trying to take on the position?" Devereaux said. "I thought it would be interesting to actually be class president."
She explained that, at first, the idea of being class president did not seem tangible. But she did her research and found that few seniors were really interested in running. With help from her friends, she decided to run. Campaigning from candy to bright T-shirts, Devereaux was sure to get her name out there.
"I was full-in. If someone had to do the job I thought that I could do the job the best," Devereaux said with confidence. "I felt like I was doing it for a majority of the whole school. I want the whole senior class to communicate and be proud of each other, and promote school events to support everyone. It's important that they all feel like they are a part of the school."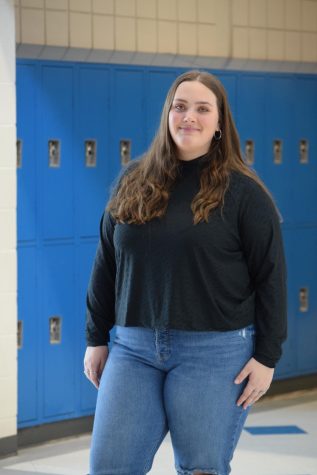 She defeated challengers Joe Buxbaum and Brie Schwendeman in the September 2021 SGA election. Now, in her role as President of the Class of 2022, she was able to help a lot with Homecoming. She was part of the group that decided the dress-up days for Spirit Week, which she said she enjoyed, because it brings everyone together as a class for bonding.
At the 2022 graduation, scheduled for June 1, Devereaux is preparing to give a commencement speech to the senior class. It's something she said she's been giving a lot of thought.
"I'll be in the shower and I'll try to start putting it together in my head, but I really have no idea what I am going to say," she said. "There are so many great athletes and just students in general so I am just figuring out what I am trying to say and how I am trying to say it."
Devereaux makes sure to put her best efforts forward to making all students feeling included and amped up for the final year. She carries a positive image and encourages students to keep going even though many events have been delayed or canceled because of the coronavirus pandemic.
"If anyone has any suggestions about events or something you really want to do, let me know and in the future I can see if we can make it happen," she said. "Let's finish it off, and remember people are here to help if you need it."
Devereaux said her message to the senior class at graduation will talk about how COVID-19 has forced this group of students to put up with a lot, including losing a chunk of their high school years to distance learning.
"Basically, I want it to be a message to the seniors about what a hard four years it has been for us, and it has taken a lot for everyone. Everyone has already made it this far, and I know we can do it," she said.