The Seahawk Wrestlers 3-peat Legacy
Stephen Decatur Varsity Wrestling Team wins their now third state title in a row, maintaining their status as the best team in Maryland.
''Wrestling is a grind and sometimes you hate it, sometimes you love it. Winning with somebody and sharing a moment with somebody makes you fall more in love with the sport,'' says senior and two-time individual champion, Noah Reho.
After three consecutive state titles, the wrestlers and their coaches have high expectations. They are expected to win and expected to carry home that big trophy. Although it is expected, it doesn't make it easy. These wrestlers have worked hard every day for these wins and continue to live up to the expectations they are given.
Sophomore Varsity Wrestler, Gavin Solito, talks about how they worked hard even through the setbacks. Earlier in the season the wrestlers lost the Cape Henlopen High School, who are two-time Delaware state champs, after Decatur was held two consecutive undefeated seasons and were looking poised for a third.
Solito says, ''We haven't lost in a few years, that obviously showed us we are beatable, and we have to work to win states.'' He continues, ''After we lost, we all realized that we aren't going to just have a cake walk through states.''
''I mean, we needed to lose that match, just to get an ego off our shoulders. And we actually wrestled after that.'' Reho added to that statement.
The wrestlers keep a positive mindset and try not to consider these things as ''setbacks'', more so motivation to work harder, go harder, and take it all home for themselves and their teammates. Working as a team comes hand in hand with winning and these wrestlers prove it every day on and off the mat
''If you wrestler like trash, nobody's going to pat you on the back and say good job, they're going to tell you how to fix it.'' Reho said.
The wrestlers each seem to go back to the idea of teamwork and how they're team has helped them overall in wrestling, and in their everyday lives.
''It just shows you the team aspect of things and just working with other people to win all of this.'' Solito said. He continued with, ''It helps us socially, we do things outside of wrestling too like going out to eat.''
Their hard work does not go unrecognized as 27-year coach, Todd Martinek talks about his wrestlers and expresses his pride in his players and how hard they work together as a team to get where they are now.
''In the state finals, instead of just wrestling for yourself, you're wrestling for your teammates," said Martinek. "A lot of the time I thought maybe our kids were going to get pinned we didn't, because I really felt like they weren't only fighting for their own, but they didn't want to let their teammates down.''
The wrestlers all mention the word family when talking about their team. This team isn't just a team, it's a collection of people and friends that they hope to work hard for and make proud. They worked hard for everyone around them, including themselves. The hard work they put in benefits everything for these players as many of them have big plans for the future.
Reho has committed to five years at Bloomsburg University in Pennsylvania, where he will be wrestling for four years. He has worked very hard to get where he is today. The hard work has been put in on and off the mat, along with many other players.
"If everyone's practicing 20 hours a week, doing extra workouts, putting in the extra work and working harder than everyone else, it's an expected feeling," said Reho.
Solito said, ''I think doing extra stuff outside of practices has helped us, like going to extra practices, going to practices when we don't need to, and just working hard in the wrestling room.''
The work put in has moved these wrestlers to much higher levels than before. Some students have been wrestling all their lives, but there's even a few players that began playing their freshman year of high school and have still pushed themselves to this point.
Henry Brous, a four-year wrestler, says that he began his freshman year, and it has been a wild ride to get to this point today. Giving his thanks to the coaches and those around him that helped.
''I think the coaching helped; we have some of the best coaches in the state. They help everyone individually," he said.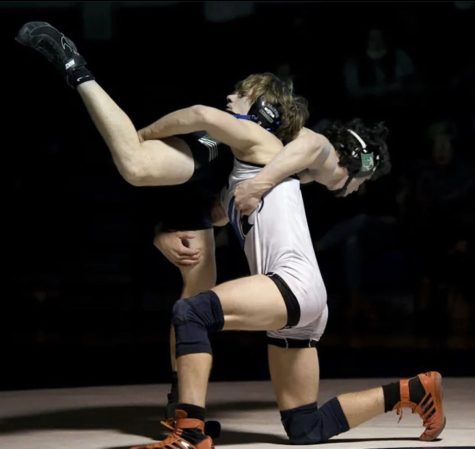 After only starting in high school and still experiencing three state titles, wrestling impacted him very heavily through these last four years.
''Wrestling itself has got me into the best shape of my life. It helps me with everything else I do, you just have to work hard.''