Girls Basketball brings home first Regional Championship in 18 years
The Girls Varsity Basketball Team brought home a regional championship title to Stephen Decatur High School after a close call against Crofton High School. 
On March 3, the Girls Basketball Team, along with everyone watching, had the anticipation of a lifetime while going up against a highly skilled Crofton team in the regional finals. The score stayed only a few points apart for almost the entire game. It was back-and-forth scoring affair. The anticipation never ended as the entire crowd was biting their fingernails wondering what was going to happen next with only a few minutes left. 
The girls were tied 42-42 with only four minutes left. Senior captain Nadia Bullock scored on a free throw to move them up to 43-42. Following that, Crofton scored two free throws, bringing them to 44-43. The Seahawks fought hard with junior Shelby Rosemond running laps around that court to make sure her and her teammates took home that title.  
Bullock put up 27 points in this game, with freshman Sam Boger bringing in 10 points and junior captain Mayah Gardner followed close behind with 7 points. Sophomore Allison Swift put up four points and Rosemond scored 1 point.
"It feels good to have something to show, after all these years of playing basketball, at least I have a number on the banner that will be there forever," Bullock said.  
Bullock has worked hard in the last few seasons and she said she's finally proud of where she is and what got them all here. This goes for many of the other girls on the team when talking about the game against Crofton.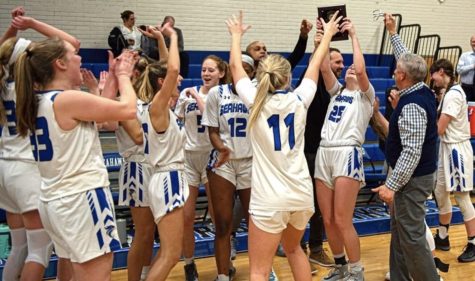 As a freshman on varsity, Swift never backs down. She ran hard, blocking every shot that neared the basket. She had her eye on Crofton's best player the whole game and made sure she didn't get close enough to the basket to score. During the last few minutes of the game, she played hard defense. With eight rebounds and three steals total this game, Swift was a detrimental factor in Decatur taking home that regional championship. 
With that comes another young but intense player, freshman Sam Boger. In this game, she pulled in 10 points and four steals. Boger made a name for herself this season with her amazing skill that is new to Decatur. 
Gardner mentions the impact that the young players have on the team.
"The freshmen on the team are great," she said. "Sam is one of the smartest basketball players; she's literally like another coach. We always ask her what to do if we can't find a coach. Allison, she's a really good shooter. She loves to drive to the basket, make some good moves, get some fouls.''
The girls' will to win was recognized by the fans, who made sure to keep the energy throughout the entire game. With signs, chants, and all-around intense energy, it motivated the girls to continue to go hard and take that championship title. 
"I give total props to that crowd," Boger said. "It made a huge difference. Having the fans yell at you when you make a mistake totally gets in your head.'' 
"It's mentally important," Coach Scott Kurtz said about the intense crowd. ''You make a good play on offense, the crowd goes wild, normally you turn around and that same person makes a good play on defense.'' 
Although the crowd provided a huge boost in energy for the players, the mindset of these girls was there from the beginning. These girls hoped to get this title, and they did. They did it for themselves, their coaches, and all of their fans who came out to support them during their undefeated regular season and their regional title. 
 "Our whole goal this season was to bring home a championship and the fact that we brought home a regional one, that's all we were hoping to do," Boger said.