Royal Farms Reports After-School Disruptions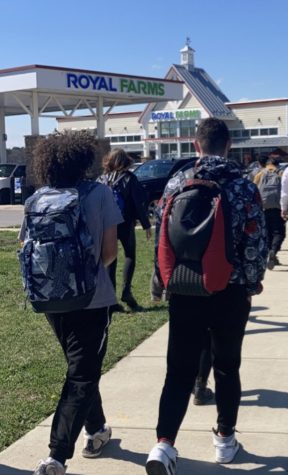 Managers at the Royal Farms located across from Stephen Decatur High School have notified school administrators that Decatur students have trashed bathrooms, started fights, and stolen from the store.
The store is taking precautions to deal with this. They have blocked off the bathroom with crates so students won't go in them, and they have all their employees on high alert. One staff member on a mid-February afternoon inside was heard to say "Oh boy, here they all come!" 
Royal Farms recently met to discuss the problem with their corporate directors and with school administrators including Decatur Principal Thomas Sites; Steve Price, chief safety officer for Worcester County Public Schools; and Stephen Decatur Middle principal Lynne Barton. They talked about the situation with students and attempted to come up with a solution, according to Decatur Assistant Principal Trevor Hill. 
Principal Sites and other administrators have been personally going into Royal Farms at the end of the school day at 2:40 p.m. to help with the problem of too many students gathering inside the store, according to Hill.
Berlin Police also have been involved and have been asked to spend more time there, according to Assistant Principal Leland Green. 
"We want to help, but at the same time, it's not school property and we have no jurisdiction over there," he said. 
This Royal Farms, on the corner of Friendship Road and Route 50, opened right across the street from the school in 2016. It has served greatly for students and staff during and after school hours. Decatur even paid to get a crosswalk installed so students can get over there and back safely, according to Hill. 
"When they are not getting anything from the store, they start to see problems magnify," he said.
Store manager Tom Campbell said the school is taking these precautions to help out Royal Farms in any way they can. He said if students see their principal at Royal Farms, they're going to think twice before potentially making a poor decision. 
"We had an issue with students doing things they should not in the bathrooms. Mr. Sites asked us to close the bathrooms as a precaution," Campbell said.
Campbell added that most students are great and they are welcome at Royal Farms when they come. But there have been a few students that Campbell has banned for their behavior.
"We do have extra staff and a police officer in the store as another precaution just to keep an eye out for theft," Campbell said.