Nail-biting game sets pace for lacrosse season
The Stephen Decatur High School boys varsity lacrosse team found itself in a deep hole against Easton for its home opening game.
"Everyone was hanging their heads. We just had to get things kicking on offense," said senior captain Luke Bahlman about the April 6 match. Easton defeated Decatur 12-11.
From the start of the game, the Seahawks were down almost immediately, with Easton scoring eight goals in the first two periods of the game. After the first few goals, it became a mental game as they struggled to make a comeback. 
"At halftime, I actually almost went home," said spectator Katelyn King. "I was like, 'there's no way they're going to come back with this one.'" 
When the halftime whistle blew, there was an entirely new team on that turf. Within seconds of the third quarter, the Seahawks were firing goals left and right by the Warriors' goalie. 
Senior Lance Adams fought hard, as many of his teammates said he was a huge aspect to their comeback. Adams had three goals during this game and was an intense player through all of the plays they ran. 
"Who played the best? Absolutely Lance Adams," junior Jordan Wingert said about his teammate. "He worked so hard to get the ball back, and he just played an amazing game with switching momentum very heavily. It's simple, Lance just makes smart plays."
"He ran hard. He really kept us in the game," Bahlman said about Adams.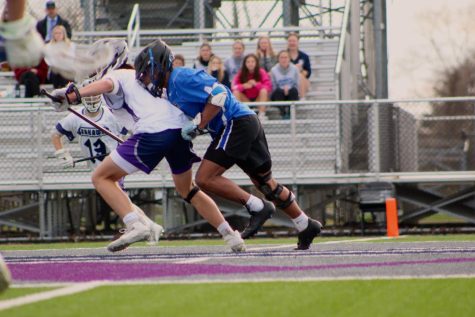 With Adams working to get the win on offense, another strong player came to anchor the defense, senior goalie Collin Fohner. He finished the game with 15 saves in goal. 
Fohner's teammates certainly noticed the way he played as junior. "He just always keeps us in these games. If something goes bad, you can always look at Collin and he's got it," said junior Gabe Geiser.
When it comes to the game situation, Bahlman and Geiser "are just really in the game and truly take it seriously," said senior Shaki Bowen. "They always want to win and always step up to make it happen.'' 
With those two players holding the game together, along with many others, things still weren't easy. In the last four minutes of the game, Easton fired off one more shot to break the 11-11 tie.
Between seniors Jeffery Eichelberger and Austin Airey, the shots were nonstop after the tie was broken. These two players had several shots but the pressure was on their shoulders.
The minutes were dwindling down and, with a few seconds left, another shot was put on Easton's goal. The end of game whistle blew and that shot didn't make it in.  
With a loss on their backs, the players walked to the locker room with their heads down. But, for anyone in the stands, that game was nothing less than pure talent from the boys.   
"I hope we play like we did in the second half for the rest of the season," Bahlman said. "You can't coach heart, and that's what the whole team is, just kids with heart for the game."
Having heart for the game would be an understatement in this specific match. Those boys proved exactly what they were there for and the skill they have within each of them. 
Bowen had one last thing to say about this season: "We can dominate these last games, I know we can do it. I just know it."