Cargo ship freed from Chesapeake
A cargo ship stuck in Chesapeake Bay for more than a month has been freed.
Authorities said the captain of the Ever Forward missed a turn onto a navigational channel on the morning of April 17. The ship at the time held about 5,000 containers weighing more than 130,000 tons. After two attempts during high tide to try and pull the vessel from a depth of 23 feet in the bay, it became clear that they would have to start unloading the cargo to try and get it afloat. 
It took 35 consecutive days of unloading containers to get the boat unstuck from shallow water. While the Coast Guard, Maryland Department of Environment, ship owner Evergreen Marine Co., and local responders worked with cranes to unload containers and dredge to a depth of 43 feet, they made two attempts to re-float the vessel, but were not successful.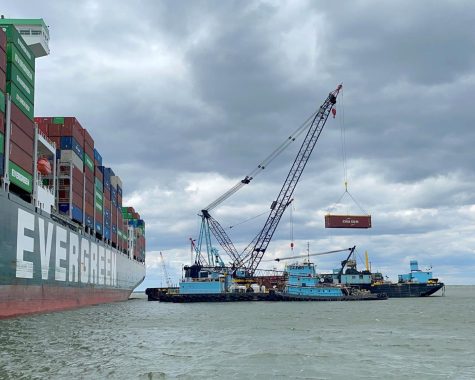 Getting the 1,096-foot-long vessel afloat could have happened faster, but for the safety of the workers, the Coast Guard decided to only work during daylight, according to an April 4 news release. 
Although Ever Forward did not block the shipping channel in the Chesapeake Bay, it did create one way traffic through the channel. The Coast Guard reported nothing about the Ever Forward polluting or leaking fuel after getting unstuck. No crew members were injured, and the ship was not damaged in this incident. 
After being freed, the Ever Forward was to travel next to the Port of Baltimore to reload the discharged cargo and continue on its previously-scheduled voyage to Norfolk, Virginia, according to an April 17 news release from ship owner Evergreen Marine Co.
This was not the first time an Evergreen Marine Co. cargo ship has been involved in a boating accident. In 2021, an Evergreen vessel, the Ever Given, blocked the Suez Canal. This canal is a very important waterway connecting the Mediterranean Sea to the Red Sea, moving about 12 percent of the global shipping trade. Blocking this canal severely hurt the global trade and economies around the world.