Krazy about Coach Kurtz
Scott Kurtz never planned on going into teaching. "I ultimately wanted to be a singer, a dancer, a stage performer, an actor," he said. "I've been obsessed with music from a very young age."
However, he eventually became a teacher because it was the best move for him. "I needed something realistic for my family, something that I could jump into and be a support for my children and wife," he said.
Kurtz has made an impact on many students at Stephen Decatur High School. Between coaching three sports and teaching three classes, he has taught many, and many of those students leave with more knowledge than ever.
Kurtz went to University of Pittsburgh and he fell in love with a girl he met there who would become his wife. They had a daughter soon after, and later had another daughter and a son. Kurtz worked night shifts at Verizon and moved on to a different school that fit him better, the University of California of Pittsburgh. This was he could still work and go to school.
Once Kurtz graduated from college, he moved to South Carolina with his three kids and wife. He became a teacher down there and began his teaching and coaching career at the middle school level. After not much time spent there, Kurtz and his family realized that Ocean City, Maryland would be the best fit, as their extended family lives nearby.
When he arrived in Ocean City, Kurtz got a job teaching seventh grade social studies at Stephen Decatur Middle School. After five years at SDMS, he was hired to teacher at the high school level. He now teaches 11th grade World History, but did teach government and psychology for a short while at Stephen Decatur High School.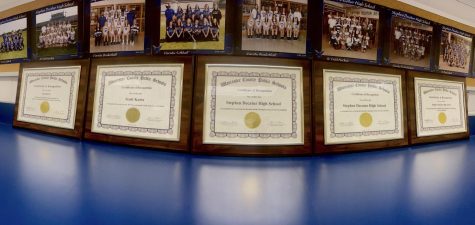 With this, Kurtz found his passion for being a teacher quickly.  "I always enjoyed working with kids. It was something I was just good at," he said.
He found that when he wasn't coaching, however, "there was always this void that was missing," he said. "I was lacking that competitive sports element in my life, so I started doing anything I could, like coaching rec leagues and after school academy to keep moving towards the high school level."
Once his daughters got to the high school level, Kurtz tried to get into all of the coaching that was available. He ended up becoming a field hockey coach.
When he started coaching field hockey, he reached out to the coaches of other programs he thought he could help out. Once he was helping, those other coaches began to move on, which left coaching positions open for Kurtz to take. He eventually became a three-sport coach, coaching varsity girls basketball, varsity girls softball, and varsity field hockey. However, he stepped away from coaching field hockey because of his coaching workload, he said.
Kurtz now focuses his time on basketball and softball. This season, his basketball team won the regional finals and became 2022 regional champions. His softball team won the bayside championship in 2019 and they currently hold the Bayside South Champions title.
Katelynn King, a sophomore, has been coached by Kurtz on both the basketball and softball teams.
"He just always knows how to talk to us. He's good with us. He makes me want to be a better athlete," she said, adding, "he doesn't just focus on the girls who are already good, he focuses on making us all better as a team."
Along with his coaching that continues to be successful, Kurtz's teaching has done wonders nonetheless.
"He isn't just one of those teachers that comes to school to get paid," said junior Jordan Wingert, who had Kurtz last semester for World History. "He actually wants you to get something out of it. He's the type of teacher that sticks with you, you're just always learning even if you don't want to be."
Although teaching never was the true plan for Kurtz's life, he says he absolutely loves the way it all panned out, and his students say couldn't imagine life going any differently, either.
"Do I like teaching? I love teaching!" he said. "I just like challenging kids to think outside the box and learn things they don't know. I want them to look at history in a way of how it affects us and our decision making. I want to push the human experience into a more positive way, in all the ways I can."