For these Decatur students, every day is Mother's Day
Mother's Day celebrates mothers around the world for everything they do, including many teachers here at Stephen Decatur High School.
Decatur mother Shannon Ritz is an English teacher and has two sons, Jake, a sophomore and Evan, a senior. One of the many upsides of having her students attend the school she works at is being able to communicate with them easier and making sure that they are feeling well and doing their best. She said it's also special to have them here because she is also a Decatur graduate.
"Having them here I feel has made us a tighter family in that we are involved in each other's lives and schedules," she said, adding, "if they were at another school, I feel like we'd be going in opposite directions all the time. It's so nice for us to be able to check in with each other and get our schedules straight."
Jake Ritz called his mom "a great resource" and that having her here at school is fun for him. "Whenever I need anything I can just go right into her classroom," he said.
Along with having his mom in the school if need be, Evan Ritz said he also has several previous connections with teachers that other students may not have.
"I was able to talk to guidance about college and I already knew everybody in there," he said, mentioning that he already knows many Decatur teachers, especially those in the English department.
Although having family in the building brings them closer, it doesn't come without some downsides. Shannon Ritz said she's "worried about not embarrassing them too much and stepping in their way of trying to become independent."
Evan Ritz explained that some teachers hold him to higher standards because his mom is a teacher.
"I've always had to sit right in front of the room and they were always making sure I was not misbehaving," he said. "It was never 'I'll send you to the office' – it was always, 'Do you want your mom to know about this?'"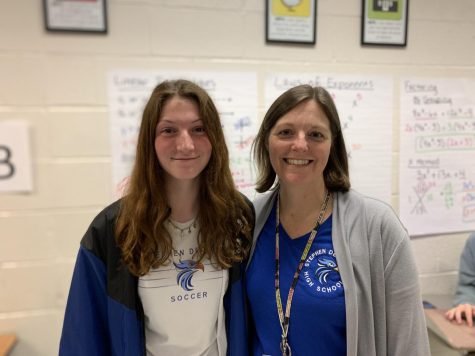 Another Decatur mother is Julia Hill, whose daughter Tirzah is a freshman. "I think it's helping us to have a stronger relationship because she knows I'm here," she said.
"It is definitely different than I thought that it would be," Julia Hill added. "It's a lot better than I expected. I fully anticipated that she would not want to talk to me at school, but she says 'hi' and comes to see me sometimes."
In her lessons, Julia Hill faces the difficult decision about whether to talk about her child or any experiences her child has had. She used to do it regularly, but now she has to take more caution – because the students are Tirzah's classmates.
Although she is a technology teacher (and her husband Trevor is an assistant principal) Julia Hill said she doesn't want Tirzah to receive any special treatment from her teachers. To make sure that doesn't happen, she doesn't reach out to teachers unless they reach out to her first.
Tirzah Hill said she enjoys having her mother as a teacher here. Her mom, a math teacher by training, even helps with her math homework.
"It's nice to know that if I need something she'll come and talk to me or give me something that I need," she said.
With her mother being a technology teacher, Tirzah also said sometimes her mom "will take my iPad and use it for whatever technology thing she's experimenting with and I have to wait until she's done to get my work done."
Math teacher Amy Fenzel-Mergott has a son, Luke, who is a now junior, and a daughter, Mary, who graduated Decatur last year.
According to Luke Mergott, his mother yells "I love you, Luke!" whenever she sees him walk by in between classes. 
Luke said he views the experience as "normal" because he's so used to having her in the building. He goes to her room daily after Period 2 to get mints, but other than that, he tries to avoid the hallway so he doesn't feel embarrassed.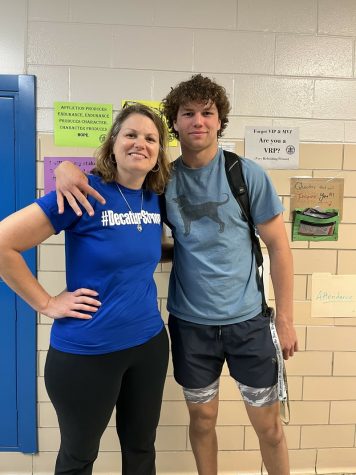 An upside to this experience, however, is that Luke gets help on math homework if he needs any. Luke said he also enjoys talking to her throughout the day and getting water from her classroom. Overall, having his mother here every day assures him that if he needs anything, she's here and ready to help him at any moment.
Fenzel-Mergott, who teaches Pre-Calculus and Calculus B.C., said it gets hard to balance emotions with work.
She said she tends to remind herself that she has worked at Decatur for more than 20 years and will continue working. Her children attending the school will only take six of those years, so there's no reason she should let her teaching be impacted, she said.
"Your personal business and your work business sometimes coincide. For me, personally, I like to keep them separate," she said.
Chemistry teacher Sara Patrick has two daughters who attend Decatur, Sydney, a junior, and Logan, a senior. She said she enjoys teaching here because she can support her daughters through their high school years – though "it's difficult at times when you work in the same place where your kids are and don't get as much of a break from each other."
Patrick's daughters visit her very often throughout the school day. They both see her usually at least once each period. This helps their family stay close and bond.
"Overall, it's been a wonderful experience," Patrick said.
Additional teachers and staff whose children are currently attending Stephen Decatur High School include:
Curriculum resource staffer Mary Berquist (Brooke Berquist)
Spanish teacher Ileana Cassino (James Smith)
Nurse Bethany Copeland (Evan Copeland)
Math teacher Dawn Ebelein (Malery Andrews)
English teacher Debbie McAdams (Owen, Paige, Lauren McAdams)
Special education teacher Michele Ridout (Reid Ridout)
Social worker Wendy Shirk (Madeline Shirk)
Special education teacher Karen Skipper (Brant Skipper)
Hawk reporter Meghan Bean contributed to this story.