From Seahawks to Sea Gulls
While seniors are off to new beginnings following graduation, many choose to continue their education in college. Near or far, these students commit to furthering their knowledge in order to achieve their career goals.
About 30 out of Stephen Decatur High School's 300 graduating seniors, or 10 percent of the class, have decided to stay local for college by attending Salisbury University. Several reasons could lead to this decision, such as financial considerations, or the short distance from home. The campus is about a 30 minute drive from the north end of Worcester County.
Growing up, it's easy to wish to go far away from home for college in a new environment. States like Florida or the Carolinas may catch the attention of students due to the warmer climate, party life, or just being in an unfamiliar, exciting area.
Being around an environment that you're used to could be a plus when sorting out the pros and cons of staying nearby.
"I decided to stay local because I didn't want to go very far away from everything I know," said senior Sawyer Hudson, who recently committed to attending Salisbury University in the fall.
When asked about wanting to explore a new area, Hudson explained that she won't miss out on branching out because she has always liked living here and she has never planned on leaving.
"Staying local is smarter for me in the long run," Hudson said.
Being able to separate wants and needs is essential for deciding where you stay for your next four years. Is fun more important than finances? Would it be smarter to get the in-state tuition and get the same degree that you would somewhere hundreds of miles away?
"I wanted to stay local because I love Ocean City and I'm really close with my family and friends," said senior Abby Stone, another future Salisbury University student. "This made it the top reason I committed to Salisbury."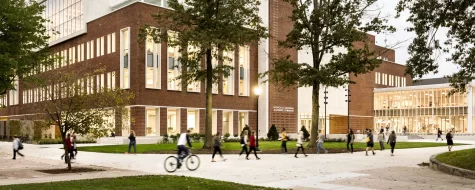 Living in a beach town is definitely a plus when it comes to staying close to home for college. Being homesick is different for everyone, so being within 30 minutes from home is an advantage for keeping strong connections with family and friends.
When asked about missing the opportunity of branching out to somewhere new, Stone expressed the fact that she may miss out on a college experience far from home, but she is perfectly content with making new friends on campus and continuing to spend time at home.
Stone explained that she fully plans on maintaining existing relationships, since she wants to live in Ocean City permanently. Exploring the area to its full extent is a goal of hers.
Maddy Lewis is another Decatur senior who will attend Salisbury University this fall. The school was her first choice, given how close it is to home.
"I don't think I'll miss out on branching out because Salisbury University provides many opportunities to connect with people from all over," Lewis said.
Despite being in an area where it seems like you know everyone around you, Salisbury University has students from more than 30 states, meaning undergrads there will have a better chance of seeing new faces than familiar ones.
"Staying local is a lot cheaper than having to travel and I think that will help me in the long run," Lewis added.