Straight-A Seniors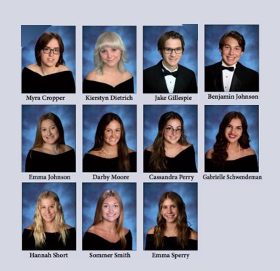 As the 2021-2022 school year for seniors wraps up, 13 students have been recognized as being apart of the Straight A-Team. These seniors have earned straight As for 13 consecutive terms, or the entirety of their time during high school.
Students deal with juggling extracurriculars, sports, and activities outside of school. This can make it difficult to dedicate your best efforts towards earning top grades. These 13 seniors have pushed through the ups and downs, including COVID-19 and quarantine, in order to earn their As.
Emma Sperry is one of the 13 students. The hardest part for her was balancing her athletics and academics. She mentions it was hard for her, and a lot of work had to be put forth.
When asked about her biggest motivation, Sperry said her family and the overall idea of success pushed her to achieve all As.
Having motivators and having goals for yourself is essential to getting yourself to do things at the best of your ability.
Upon getting accepted into colleges and getting closer to a future after high school, Sperry said, "Knowing that my acceptance into college was dependent upon my academic performance in high school influenced my work ethic."
A big reason that students strive to be at the top of their class is the college factor. Getting accepted and committing to college is a huge accomplishment.
Sperry will continue cheerleading at North Carolina State University while studying applied mathematics.
Cassie Perry is also a member of the Straight A-Team. She explained that for certain classes, it was easy for her to get all As because the courses came easy to her, but there were some challenging classes that she had to try harder for.
"I just have to get things done on time, and I am very harsh on myself if I don't do my very best in any class," Perry said.
Holding yourself to a high academic standard and being your own influence helps to reach your goals in the long run.
Perry explains that she didn't know where she wanted to go to college until early this year, so the idea wasn't a big influence in how she did her work.
Not knowing the academic path you plan to take after completing high school can be discouraging for some, but Perry found balance in still pushing herself mentally.
"Having multiple hard classes in a semester while balancing my life outside of school was the toughest part about high school, as well as maintaining motivation throughout the year," Perry said.
Jumping back into in-person learning after being confined to screens and zooms tended to alter students' motivation and perseverance to move forward.
Committed to Salisbury University, Perry is majoring in nursing.