Businesses need Decatur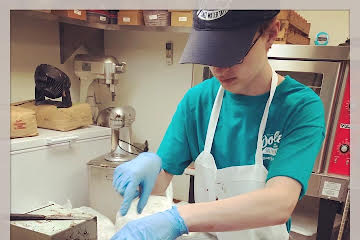 For teenagers living in a tourist destination, summer jobs are a must once school closes. Even with the abundance of jobs waiting to be filled, sometimes it may be hard to pick which one to choose.
In our area, there are many businesses struggling to get workers and seek Stephen Decatur High School students to be their employees. These businesses would do anything to persuade students to work there. This makes it difficult for students to know the reality of working there, versus what they're telling you to get you to fill out an application.
The Hawk interviewed several Decatur students about where they work, and experiences they have had with the business.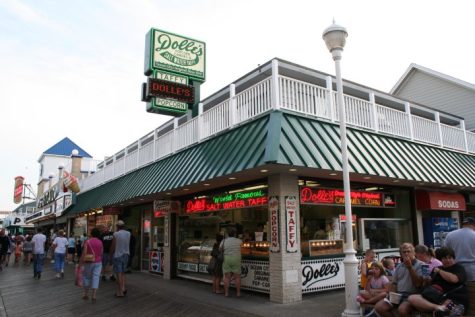 Dolle's Candyland
Michael Bise, a junior, is employed at Dolle's Candyland at the Boardwalk location. His job is to pack taffy. This includes him filling the machine that bags the taffy, boxing taffy, shrink wrapping the boxes and, finally, putting the boxes into bigger boxes ready to stock and deliver.
This summer is going to mark Bise's fourth summer working at Dolle's. Bise described the work as "repetitive but fun." He said the people there are "great" and describes the job as relatively easy. Bise recommends the job to anyone who wants an easy and enjoyable job for the summer.
Bise said the best thing about the job is that there's a variety of jobs you can be scheduled for. This makes sure employees are never tired of doing the same job every shift.
"There's so many different things you can do," he said.
These jobs include packing taffy, covering candy with chocolate, working any of the many shops, making popcorn and running the popcorn stand, and cooking taffy (a job for which you must be at least 18 years old).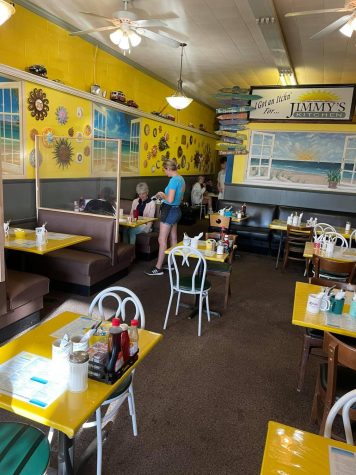 Jimmy's Kitchen
Junior Brooke Patton works at Jimmy's Kitchen in Fenwick Island. At the restaurant, she is a hostess and busses tables. As a hostess, she escorts customers to their table. When she busses, she cleans the tables and puts them back together to make them presentable for the upcoming customers.
Although Patton only started working there in the beginning of April, she has already noticed the friendliness of the staff. "Everyone's really helpful and they make you feel welcomed," she said.
Patton also said she enjoys the hours. Opening at 7 a.m. and closing at 12:30 p.m. gives her a good chunk of the day to still participate in social outings with her friends. This helps her make money while still not missing out on her summer.
The only con in Patton's eyes are the tourists, which are inevitable living here.
"It's the same with any job, generally dealing with the public can be difficult at times," she said.
Patton recommends the job to anyone who wants to work. She said it's a good work environment with a good pace, meaning you won't get burnt out in an hour, but you also won't get bored.
"If you want to make money and earn real life work experience, you should definitely apply," she said.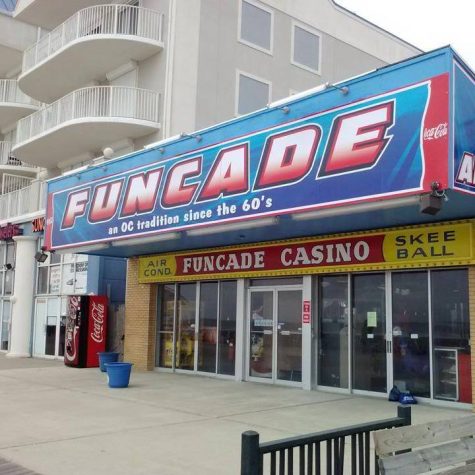 Funcade
William Kozma, a junior, works at an arcade on Ninth Street in Ocean City called Funcade. This is Kozma's third year working there. His job consists of handing out prizes, making sure games are clean, and sweeping the front.
Although this job may get a little bit chaotic in the summer, in Kozma's eyes, it is nevertheless a good job. According to Kozma, the owners and managers are polite and "dependable" all the time.
Funcade is specifically looking for night shift workers. They are specifically looking for people that are at least 16 so they are legally allowed to work past 9 p.m. but they may accommodate accordingly.
"It's just a nice environment. Everyone that works there is very nice," Kozma said.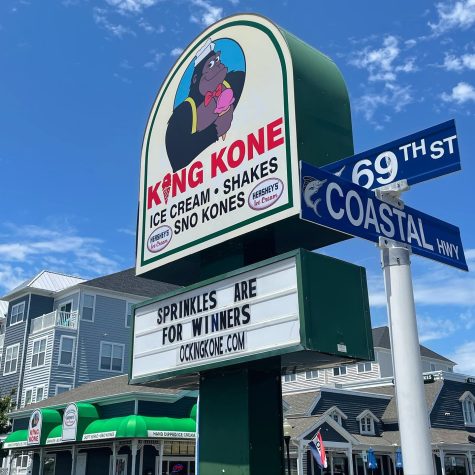 King Kone
Along with working at Coastal Smokehouse, Leah Rohlfing also works at King Kone, at their 69th Street location in Ocean City. This summer will mark her fourth at King Kone. She scoops ice cream, makes sundaes and milkshakes, and works the cash register.
Rohlfing describes King Kone as a "fast-paced environment," but the atmosphere and the people she works with makes the rush times worth it.
"It can be a little stressful because you're dealing with a lot of customers at a really fast pace, but it's simple work in general," she said.
One of the many reasons Rohlfing enjoys the job is that the ages of the workers is diverse. According to Rohlfing, workers typically range anywhere from 14 to 20 years old. Although there may be a six-year age gap between some workers, "you get very close with the other workers because you're in such a small building," she said.
Another reason Rohlfing enjoys working at King Kone is how involved the owner is with both the business and the workers. "I see the owner pretty much every time I'm there," she said.
The pay also plays a role in the employee's enjoyment. Although workers get paid minimum wage, they also gain cash and card tips. In Rohlfing's words, "the money adds up quick."
Rohlfing recommends this job to anyone who can deal with tourists well, doesn't dwell on little mistakes, can remain encouraged, and is a first time worker.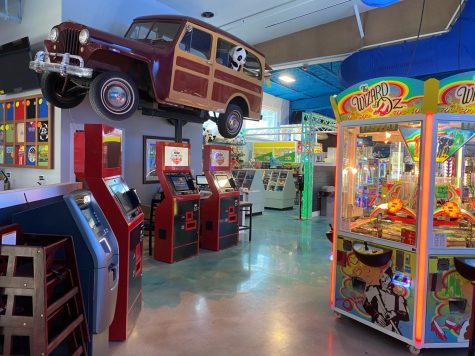 Alley Oops
Junior Dalton Phebus works at Alley Oops in Ocean City, at their 55th Street location in mid-town Ocean City. He only started working there in February of this year, but he said he's already had a wonderful experience.
While on the clock, he works redemption, where he helps customers redeem points. He also works a simulation game entitled "Dark Ride," occasionally restocks claw machines, and cleans up spills, if any.
Phebus describes the work as "repetitive but enjoyable" and says it is a "positive work environment" altogether.
Phebus recommends the job to anyone who has a good work ethic and is dedicated to the business and it's well-being.
"As long as you're on top of your game and you are responsible, respectful, and good with kids, go for it," Phebus said.
In his eyes, there are no flaws to the job. "I can't complain," he added. "It's overall a very welcoming place."
This job is specifically looking for people at least 16 years of age to be servers and people who can work short shifts to fill any occasional empty shift.
"I love it," he added, "I love the people, the environment, the food and the fact that they are family friendly."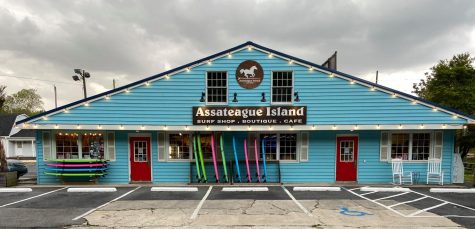 Assateague Island Surf Shop
Junior Mia Diehl is employed at Assateague Island Surf Shop, located on Route 611 in Berlin. Diehl has worked there since July of 2020. She works in the café section of the establishment where she operates the cash register and prepares food for customers to enjoy.
"I really enjoy working there," she added, "We are all like sisters there and it is really enjoyable."
In Diehl's eyes, the job is extremely fast paced during the summer, with the rush of customers going to Assateague. Although the work can be fast paced at times, "the work itself is enjoyable yet detailed," according to Diehl.
Working the café is not the only job at the surf shop. Workers have the choice to work the shop as well as the café. In the shop, workers operate the cash register, help sell merchandise, stock accordingly, answer the phone, and help accommodate customers as much as possible.
Diehl said she believes that the best thing about the job is "the community and family that comes with it."
Being owned by a local family with two sons that attend Decatur, they are extremely polite and personable not only with workers but with customers as well, she said.
In Diehl's words, "The family there is amazing and welcoming. Come join the team!"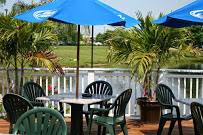 Taylor's Neighborhood Restaurant
Two juniors here at Decatur used to work at Taylor's Neighborhood Restaurant located in Ocean Pines.
Z.J. Lyons worked there for three years and Aidan Foley worked there last summer. Lyons bussed tables, washed dishes, ran food, and occasionally did some cooking.
In his eyes, the best thing about working there were his fellow employees.
"Most of the time it's pretty fun," Lyons added, "I like the people that work there so I always had a good time."
When Aidan Foley worked at the restaurant, his main job was bussing tablets. Foley said that he liked the fact he could bike to work because he lived extremely close to the establishment. This helped him and his parents save money on gas.
The only con in Foley's eyes was how slow the job was. Due to the location, most of the customers were elderly and there were little to no tourists present.
Like any other local business, they are in need of employees this summer.
"They'll take any of the help they can get," Lyons said, adding,  "be prepared to do a lot of work but also have a lot of fun. Overall, it's a good experience."
Dunkin'
Decatur senior Cassie Perry works at Dunkin' (the company dropped the "Donuts" from its name in 2018) at its 120th street location in Ocean City. Perry has been working for Dunkin' since April of 2021. She operates the cash register, makes drinks, cooks food, scoops iced cream, cleans, and stocks.
Perry describes the work place as a "very positive atmosphere" and said the best thing about the job are the people she's surrounded by.
"I am able to meet other people from all around the world who are very hard workers," she said. "I appreciate my managers and coworkers because they make the job a lot less stressful."
Perry also said that sometimes, the crowd Ocean City brings in can be stressful. Not only the constant orders flowing in, but also the attitude of the customers can be unsatisfactory.
"If you work with a positive attitude, it makes the job and the hard work so much better," Perry said.