Media Center under renovation
Mary Cosby, Stephen Decatur High School's longtime librarian, is packing up her belongings at the same time that the library that the school she knows and loves is, too.
The media center will be renovated this summer to accommodate the abundance of students hoping to take Wor-Wic Community College's dual enrollment classes.
As the old carpet is getting rolled up and new additions are being made, the same unforgettable books will, thankfully, still remain here at Decatur.
This means that around 14,000 books are stocked in boxes in back rooms of the library.
"It started with needing new carpet," Cosby said, "because the carpet is 21 years old. Then it occurred (to us) that there's more students going to enroll in Wor-Wic this year."
Cosby said this will be a great way for students to be able to take Wor-Wic classes without having to leave Decatur.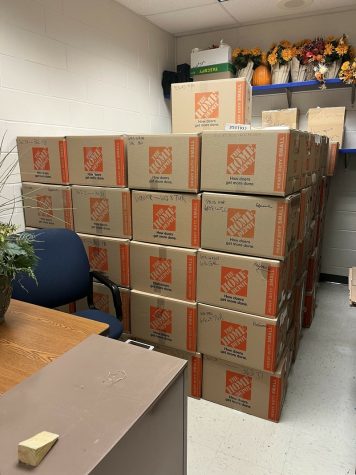 "I think it will encourage some students to challenge themselves, since it's more available and they don't have to drive," she said, adding, "they might say: 'hey, I can really do college work, why not?'"
To make room for students taking online Wor-Wic classes, shelves will be moved and packed more full with books than ever before. Despite the new additions, there will still be room for students to come in, explore new books, and work on school assignments.
Cosby said she loves to see students using the media center as not only a place to read or search for a book, but also a place to escape from the sometimes chaotic regular flow of school. She called the media center a "sort of safe haven for students."
Not only is this a good way to have students explore college classes but it also may encourage students to read.
"More students will be in here, so they'll have an opportunity to browse," Cosby said.
When describing the ordeal of book removal, Cosby described it as "a new adventure" that is perfect, considering the fact that she will be retiring. This way, Cosby said, she can leave with a clean slate and can see her years of work come to an end.
"It's just another interesting little challenge," she said.
When she first started working here back in 1996, the library was located in the area that is now classrooms D150 and D151. It wasn't until 2001 that Cosby opened up the current library that we use now.
This experience has come full circle for Cosby. Funny enough, the new librarian, Brittany Tignor, graduated Decatur the same year that the new, current library was formed back in the 2001-2002 school year.
"I'm ending and she's coming to refresh it," Cosby said.
Darik vonRigler, a media center assistant, described this renovation as "a good, healthy change."
"As far as the restructuring, I feel like that would take some time to get used to but I don't feel like it would be bad," he said.