Behind the Bench
Hawk reporters Meghan Bean and Eva Luzier followed the Seahawk boys varsity lacrosse team all season on their quest for a Bayside South title. Photos by Meghan Bean.
There are several things you might expect when you walk onto a boys' lacrosse field or sit on their bus and stand by their benches during games: plays being called, jokes being made, cheering, coaching advice, just to name a few. And maybe, a few things that you wouldn't quite expect.
For those who have not played a sport in high school, or at least not a boys' one, the things you hear and see could come to you as something of a culture shock.
There was much to be learned about Stephen Decatur High School lacrosse culture during this tumultuous season as The Hawk took a deeper look at the players and their experiences on and off the field.
During lacrosse drop-ins, Gus Emm had no idea he wouldn't be able to play his senior year of the sport he's played his entire life. After an unexpected injury, he said it left him feeling lost. With a torn ACL and preparing for a long road ahead, Emm sat elevated above the field in the managers stand as he watched the season unfold.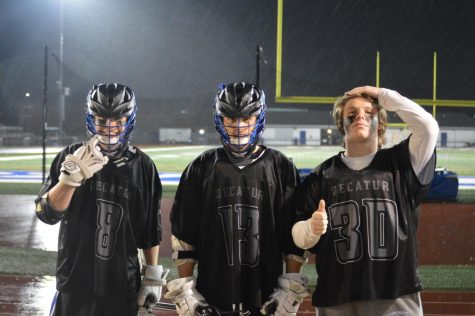 This season was one of progress. Emm, the former midfielder who instead spent this season as the team manager, refers to the first few games as "an adjustment period" and attributed it to the team figuring out how to work together.
"It's hard to know," Emm said. "You could have been the difference or the help to change what's going on in the game. It's hard to just be a sideline player."
Even from the sideline, Emm found a way to be a part of the team by going to every practice, every game, and taking the underclassmen under his wing through the season.
There were eight underclassmen on the senior-dominated team. Emm said he felt like some underclassmen early in the season didn't play their best – maybe even that they were intimidated – but now, "they're all used to it and they're playing more freely than they were," he said.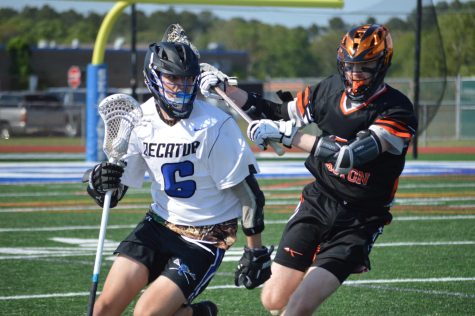 "At first, I was really overwhelmed with the pressure of being an underclassman," said sophomore defensive midfielder Ashton Clarke. "Eventually, I changed the way I played and became comfortable with the game."
Even with a number of underclassmen on the team, there were still 14 seniors on the team. Between them, the boys brought a lot of talent into their starting lineup, and carried it into every game.
"Been with these boys since the sandbox," said defenseman Joe Buxbaum about how long he has been playing lacrosse with his fellow seniors.
"I've been with these guys since Scoopers," said attackman Jeff Eichelberger, referring to the pee-wee league for lacrosse players. "We've been waiting for this moment forever, to play with each other our senior year."
With this shared history, players know how their teammates play and are more comfortable on the field together – but it didn't come easy.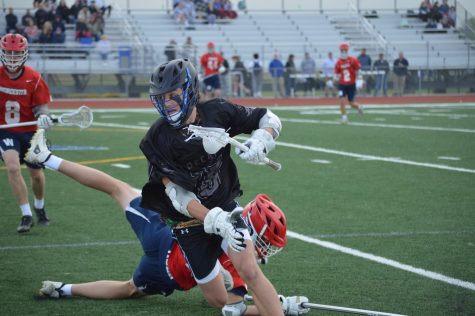 "I think we expected initially in the season that we would be more bonded together, but that's not how it went," said senior attackman Austin Airey. "I think now we're starting to find how well we play together, and building off of each other's strengths."
One senior in particular felt an immense amount of pressure through the season and grew from it all. When Shaki Bowen tore his ACL in the fall, the star player knew he would have to recover in time for his final lacrosse season at Decatur.
"Because I'm Shaki," he said with a smile, "you already know I'd be back."
With a mindset like that, Bowen made it happen. By early March, Bowen's ACL already was partially recovered, and he was on the lacrosse field running laps around the other players.
Bowen is a faceoff specialist. He manages to win nearly every one. There were many times during the season that Bowen came off the field with a limp after fighting hard to win another faceoff. Regardless of how he came off the field, he was always back on the field again for the next one.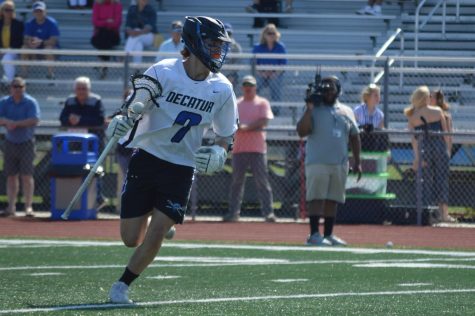 Noted Emm: "Shaki is the most mental player I've ever met. It's all in his head. You just have to tell him he's going to win, and he will."
Bowen wasn't the only one with a winning mentality. The team's collective mindset contributed heavily to the results of each game.
Whether the intention was to play to the level of the other team, or a pre-conceived notion that they were going to lose, the headspace the team shared translated onto the field.
"If we go in thinking we're going to win, then we are just going to be surprised if they make a comeback," said junior midfielder Jordan Wingert. "Or if we win, it isn't really exciting – you expected it."
From behind the bench, witnessing many wins and many losses, all the close calls, and of course, the games that meant a lot, it became clear how players' thought processes affected their plays, attitude, and sportsmanship on the field. Even after negative calls, seeing the heart that some of these supposed tough guys have for their teammates was something special.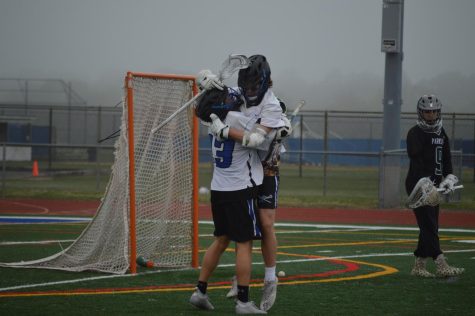 The team had a lot to say – from hearing things like "did you forget how to run, Jordan?" and "you really held us together out there, Buxy!"
"Spending two hours or more a day together on the field," said junior midfielder Gabe Geiser, "and just being around each other so much, we eventually just grew to like each other and become a big family."
Added Bowen: "We're all just like brothers, one big unit and we're just never separated."
Not only do players say they feel like family, a few of them actually are family. Frankie Buxbaum is a freshman defenseman starting on varsity behind his brother Joe.
"Playing with varsity so young is super cool, but playing with my brother for the first time was way cooler," Frankie Buxbaum said.
Freshman Graham Geiser and his older brother Gabe were another set of brothers on the team.
"It was amazing playing with my brother," said Graham Geiser, a midfielder/attackman. "The chemistry we have is awesome and I hope do just do the same thing next year."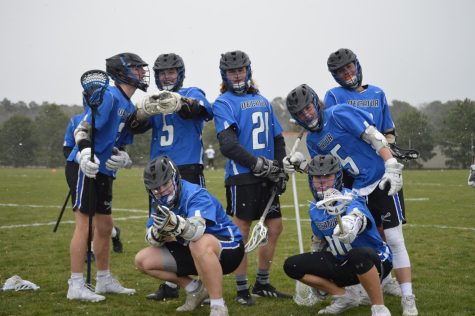 The Seahawks finished the season 10-5, and went on to win the Bayside South title, defeating longtime rival Parkside High School in the final game of the regular season.
"Foundations were set our freshman year," said Joe Buxbaum on their drive to the title. "The attitudes of everyone on the team wanting nothing more than a win."
With a love for each other and for the sport itself, teammates made sure this season was nothing less than memorable, as they did everything they could to come out on top.
"As for future seasons, I think the upperclassmen taught us everything we needed to know," said freshman midfielder Luke Popielaski. "I think we'll grow and become a team with even more skill – maybe one with a few championships, too."