City Hall honors GSA club for Pride Month
In a milestone accomplishment to have a school club recognized at a municipal level, the Stephen Decatur Gender and Sexuality Alliance was recognized by the Ocean City Town Council at its June 6 meeting.
"The Town of Ocean City proclaims the month of June 2022 as LGBTQ Pride Month throughout the town," said Mayor Rick Meehan at the meeting. "We are honored that these students reached out to us and happy that they did."  
The GSA succeeded in not only getting their club recognized by the Town of Ocean City, but saw June designated as "Pride Month" in a town proclamation. 
"I feel like this is probably going to be one of the things I talk about to my kids," said GSA member Beck Allen, when asked about the experience of being recognized.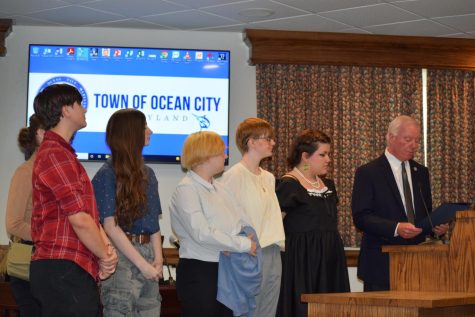 Prior to this semester and all the work they have done, Decatur has not had a GSA since before COVID-19 sent us home over two years ago.  
Run by Keith Hall and Wendy Shirk, who you can find supporting our students in the Guidance Department, this organization came back with huge goals. Getting recognized took a lot of advanced preparation and consideration, something the members said they were willing to work with in order to accomplish this.  
The plan underwent many changes. The original plan was to make posters and launch a petition in order to get the town to fly a Pride flag at City Hall.
However, after much deliberation, the club decided on a much simpler course of action. The group spent meetings over the course of several weeks writing emails, letters, and reaching out to city officials. The city agreed to recognize the GSA at a council meeting.  
The GSA serves as a safe haven and educational opportunity for members and allies of the LGBTQ+ community, to learn, teach and accept people of different backgrounds and identities. There is also a middle school level of this group that is going to bring in new ideas for the future.  
In the years to come, the group hopes to potentially organize pride parades and other events for the school and community members.