Playoff-Bound Field Hockey Team Wins Four Games In A Week
After this unbelievable week and throughout this record-breaking season, the field hockey team is making history. The team won four games in a week and secured a spot in the conference playoffs.
Field hockey at Stephen Decatur High School has not only improved from teamwork, it has also improved thanks to new coaches and their coaching styles. It may be hard work along the way, they said, but the product truly is amazing.
Head Coach Katie Griffin said that she had many goals for the season and some of them have already happened. Her first goal was for the team to win at least one Bayside South game because that hasn't happened in a very long time, which they did. Her next goal was for the team to not have a losing record, which they don't since their record currently is 6-6. Her third goal was to host a playoff game, which they are. And her final goal of the season is to win the playoff game.
Coach Stan Griffin's goal for the season is to win the regional championships and go to the state playoffs. He says that they could have a shot at going to the regional championships, but winning it will be a different story. He is excited for the players for doing what they have this season, but he eventually wants it to be the norm in future seasons of Decatur field hockey.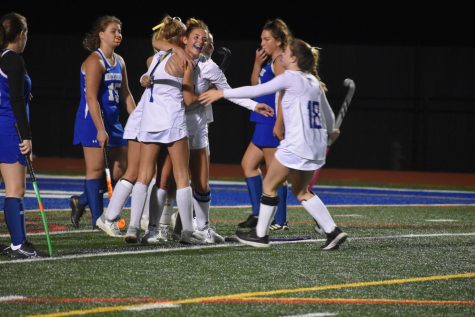 Stan Griffin, husband to Katie and an accounting teacher, said the most important thing for him when it comes to coaching is dedication.
"The one thing that I said [is that] it doesn't have to be your whole world, but it has to matter. It has to count for something. You can't just show up and say 'Oh I'm playing just to play.' There has to be a drive so having the players have that drive and the coaches having that drive to just want to be better and being the best that we can be," he said.
Maggie Pfaff, a freshman forward, said coaching is the reason for the field hockey team's improvement.
"I think they really just pushed us to our maximum abilities and they're not going to stop. It's just all of the talent being put together and finally being pushed to its full potential that has really made us better," said Pfaff, who plays on the JV squad and sometimes on varsity.
The Griffins started coaching for Decatur field hockey in 2021, when the fall sports got moved to the spring due to the COVID-19 pandemic.
Katie Griffin said she started coaching because she loves the sport. "I played it all through high school and college. And it's kind of a dying game. A lot of schools are getting rid of their programs so I kind of have a desire to keep it alive," she said.
Stan Griffin decided to coach field hockey that year due to a lack of coaches and decided to specialize in helping goalies, which has since changed. He now refers to himself as a "building coach," which essentially means that he is someone who is in the building if the students ever need a coach throughout the day.
This year, the field hockey team has been making a name for itself after being overlooked for many years. In many players' eyes, the main reason they said they've been able to accomplish so much compared to prior years is putting in hard work and having a close bond with one another.
"We're like a big family," said varsity goalie Sarah Smith, a senior. "Our cheer is about family. When we go out on the field, it's about family. Most of the time I'm not looking forward to the games, I'm looking forward to playing with them and spending as much time as I can playing with them before I leave."
Smith is not the only player to feel like the team is like a family to her.
"The team is really close and it's the closest I've ever been with any team I've been on," said Rylie Kirby, a junior who plays defense on the varsity team. Kirby has been playing since her freshman year and describes the team as her "second family."
"I feel like how close we are makes us all a better team because we all can work together on and off of the field," she said.
To make sure that their teamwork is strong and effective, the team has to make sure that there isn't any tension between the players or else they may see the affects in their gameplay.
"When there's bad chemistry going on, we can actually have really bad games that week," said midfielder Bailey Griffin, a freshman on the varsity team. "There was one week where we were having a bad week together and we actually lost to a team that we should have been able to beat."
Coach Katie Griffin thinks the most important thing when it comes to coaching is having a good team chemistry. As a coach, she said she wants to "make sure the attitudes are positive, that everybody feels welcome, and that everybody just really enjoys being a part of the team."
Smith said it's important to make sure everyone on the team is supported, no matter what they do on the field.
"When we're playing, you just have to cheer everyone on as much as you can. If they make a mistake it's okay, we all do. Just try your best," she said.
Week Overview
The week kicked off on Oct. 10 when varsity played an away game against Crisfield. Senior Bre Ferguson scored two goals and sophomore Ava Snelsire scored one goal bringing the final score to 3-1.
The second varsity game of the week left no time for the team to practice being just the day after their first game. On Oct. 11, varsity held their annual pink game at home against St. Michaels.
The Worcester County Recreation and Parks Youth Field Hockey Program was able to share the victory with them and according to the field hockey Instagram account, @sdhsseahawksfh, they "brought the luck" that contributed to their win. Goals were scored by freshman Bailey Griffin, Senior Bre Ferguson, and sophomore Ryleigh Smith ending the game with a score of 3-1.
On Oct. 13, both JV and varsity played an away game against James M. Bennett High School. In the varsity game, goals were scored by sophomore Ryleigh Smith and sophomore Emily Ferguson resulting in a final score of 2-0. In the JV game, goals were scored by freshman Maizy Jerns, freshman Maggie Pfaff, and junior Grace Short. This brought the final score to 3-0. Throughout both of the games, defense was strong and didn't allow any shots on goal.
Since the week of Oct. 10-14, the varsity team held their Senior Night and had an outstanding 10-0 victory against North Caroline at home. Senior goalie Sarah Smith got to step out of the goal and play field, and scored a goal. Senior Emily Sandt, who usually plays defense, got to make her first assist.