Seahawks Come Home: A Look At Decatur's Homecoming
Homecoming Week has just passed and it was nothing short of entertaining.
Come September, we have all our Seahawks back in the nest, and in October we celebrate that annual return with a week of festivities and theme days, capped off by a huge football game and a school wide dance.
Homecoming Week is a milestone in every student's academic career and an event that creates memories for the rest of our lives. A clear picture of Homecoming Week will show you all the work and positive intentions that provide a unifying event for members of all graduating classes.
This year Homecoming fell on the week of October 3-7. Sadly, there were two-hour delays on both Monday and Tuesday due to flooding from Hurricane Ian, or what was left of it. Although this was a minor setback, it didn't discourage students from dressing up according to the day's theme or attending the after school activities. This year's theme is "One School, One Team."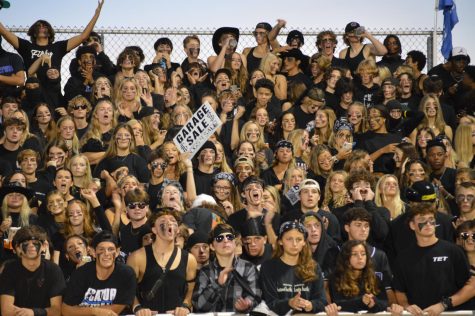 The planning of Homecoming Week is typically handled by math teacher Amy Fenzel-Mergott. However, teachers Mary Hathaway, Maggie Berke, and Bova shadowed her this year in preparation for taking it over in the future. Beyond the late nights and lots of planning, the teachers said they feel that the success of the week makes it all worth it. After all the root of Homecoming lies in school spirit and Decatur pride.
Homecoming Daily Details
Monday's theme was "Multiples Monday," which meant that students would dress in matching outfits with their friends. Walking around the hallways here at Decatur there were many pajama pants, Minions costumes, and much more. Due to the rain, the Powder Puff Football Game got rescheduled to Thursday.
Tuesday's theme was decided by the Student Government Association (SGA) and was voted on by the student body. After many days of voting, the student body ultimately decided on "Neon Day."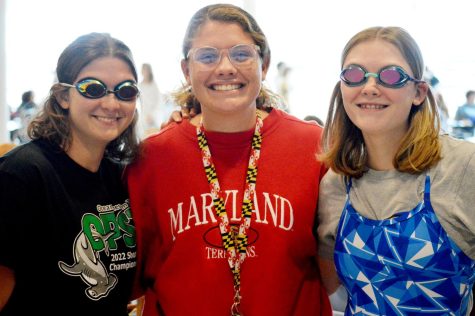 The SGA used the voting as a way to raise funds. During lunch shifts students would put money into large plastic jugs labeled with the theme day ideas and the jug with the most money would be the theme for the "SGA choice day."
It's not just the SGA that takes advantage of the fundraising opportunities. Various clubs and departments throughout the week hold events and competitions, such as this year's "Lip Dub" (formerly Smish Smosh) which is held annually by the Decatur Theater Department.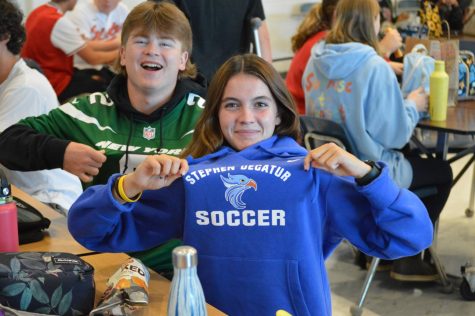 For Neon Day, students delivered, with reflective vests, bright-colored beanies, and even hard hats. At 6 p.m., students battled it out with volleyball in the gymnasium where seniors took first place, juniors took second place, freshman took third place, and sophomores took fourth place.
On Wednesday, the theme was "Decades Day," where students would dress up in the style of any decade of their choosing. Students dressed in anything from 90s flare jeans and flannels, to 60s tie-dye outfits, and much more. At 6 p.m., students competed in or watched the Decades Dub Competition in the auditorium. Juniors got first place, sophomores got second place, freshman got third place, and seniors got fourth place.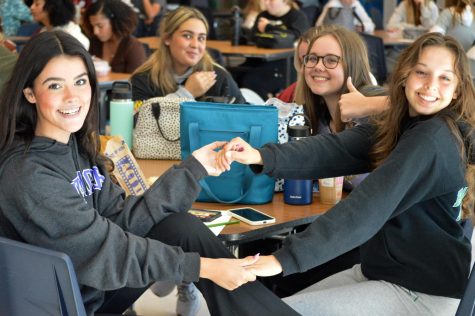 The theme on Thursday was "Mathlete vs. Athlete." Students decided whether to dress in nerdy attire or dress up in sports jerseys. Most of the school dressed in sports attire but there were still some people in mathlete attire.
That evening, Decatur girls (and some boys being quarterbacks) participated in Powder Puff, while the boys participated in cheerleading. For football, juniors took first place, seniors took second place, freshman took third place, and sophomores took fourth place. For cheerleading, seniors took first place, freshman took second place, juniors took third place, and sophomores took fourth place.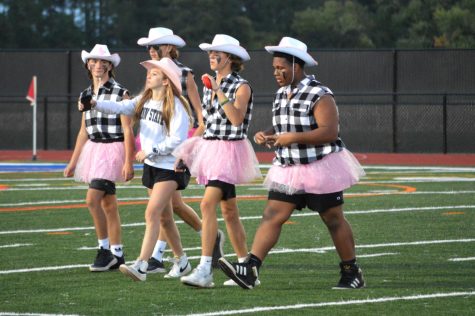 Homecoming Weekend
Friday is the day that truly displays the meaning and purpose of Homecoming. The entire school comes together to welcome the return of all students and create memories with peers. Homecoming is supposed to show that, no matter where you are in life, especially after high school, you will always have a home in the Decatur community.
"We're just trying to make Decatur a more fun and spirited place to be," said Courtney Bova, a psychology teacher who took part in planning Homecoming this year. "It's a celebration of our school."
Friday's theme was to show your school pride by wearing Decatur gear. Students wore Decatur-themed shirts, sweatshirts, and even some students wore Decatur sweatpants.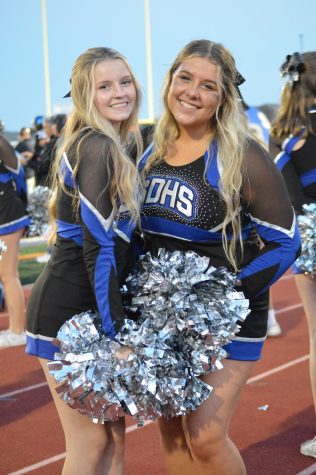 Around 1 p.m. Friday, students gathered in the stadium to watch the pep rally, and even some students participated. The pep rally included many games for students to play in front of their classmates like musical chairs, tug-of-war, and more. At the pep rally, Josh Alton was pronounced Homecoming King against seniors Gus Croll, Connor Herr, Oscar Li, and Na'Sier Tull.
That night, Decatur held a blackout-themed Homecoming Game where Decatur's varsity football team played against North Caroline and won 16-14. At the game, Daniya Smith was pronounced Homecoming Queen against seniors Mia Diehl, Mackensie Martinez, Sadie Peters, and Emily Sandt.
At the game the student section dressed to impress and match their team as the players stood on the field fighting for the win in their special black uniforms.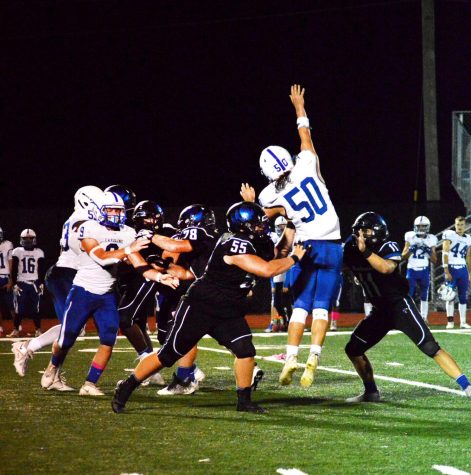 Saturday morning started with a 5-K relay race at 9 a.m. where the juniors performed the fastest – yet another event that allowed students to bond with members of their graduating class early in the school year. Teams for the event could only be made up of people from your own graduating class, which kept the competition alive between grade levels.
From 6:30 p.m. to 10 p.m. Saturday, Decatur held its annual Homecoming Dance in the gym. Students dressed in their best attire to attend and did not disappoint. They danced, hung out with friends, and just had a good time. Overall, it was a flawless night to end the spectacular Homecoming Spirit Week.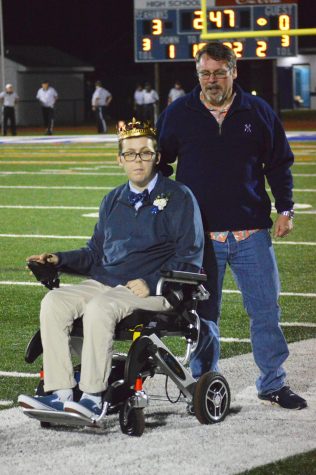 A Special Recognition
Seniors this year took the sentiment of Homecoming to heart by electing a student that we no longer see in the building onto Homecoming court: Josh Alton, a classmate who has been diagnosed with an aggressive form of cancer, metastatic Ewing's Sarcoma. Several years ago Alton was diagnosed and has been battling it ever since.
Members of his graduating Class of 2023 started a social media campaign to make sure everyone voted for him, with an image you could see reposed on everyone's accounts. The idea of voting for anyone else was pushed out of students minds as they rallied behind Alton.
After Alton was crowned at the pep rally, he received a standing ovation, not only from his fellow seniors, but students seated in the bleachers. Decatur chose to show that even if we don't see you in the building every day, on the field at sports games, or hear your voice at club meetings, you will always have a place here.
Homecoming is a reminder that, from the stand to the sidelines, we are all Seahawks.