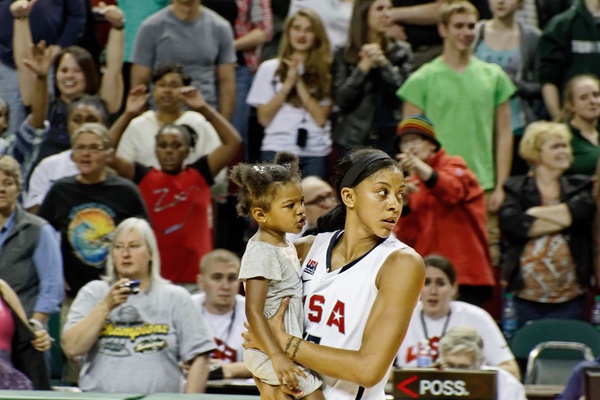 Creative Commons
All the greats have been doubted. Tom Brady was deemed unathletic and slow, and Steph Curry's early scouting reports said he would have limited success in the NBA. Brady is now a record holding seven time Super Bowl champion and three time Most Valuable Player (MVP) and Curry has won three NBA championships, two MVPs, and is closing in on the record for three-pointers made.
These all-time greats in their respective sports have proven their doubters wrong and are having very successful careers. But a lesser known star who is still proving doubters wrong even after numerous accomplishments and championships is WNBA star, forward Candace Parker.
This past month, Parker, 35, led her hometown team, the Chicago Sky, to their first ever WNBA championship. Add this to her list of career accolades including winning Most Valuable Player and Rookie of the Year in the same year (2008) along with another MVP in 2013, and a WNBA championship in 2016 with the Los Angeles Sparks, along with winning WNBA Finals MVP.
Add to that her NCAA Championships with the University of Tennessee (2007 and 2008), her two Olympic Gold Medals (2008 and 2012), and being named an All-Star five times throughout her career, Parker has made a solid case for being one of the Top 5 WNBA players of all time.
This past season, after 13 seasons with the Sparks, Parker took on the challenge of returning to her hometown to play for the Chicago Sky. Pressure mounts for any athlete when they decide to leave a team where they have spent the majority of their career and had most of their success with. Fans often will question whether the team is what made that player successful rather than their own individual efforts.
To add to the pressure, Parker was voted by the players in 2019 as the most overrated player in the WNBA at the time. This is unlike most criticism that athletes usually receive, as they normally are criticized by the media or by coaches, but this time it was by her fellow league members.
One way to silence the doubters is to win a championship – and that is exactly what Parker did. But, make no mistake, this is no easy task. Adjusting to new coaches and styles of play, along with becoming accustomed to a whole new city are just a few of the obstacles for a player when joining a new team.
But Parker took on those challenges and, despite leading the team to a lackluster 16-16 regular season record, the team delivered when it mattered in the playoffs. After defeating the Dallas Wings and the Minnesota Lynx in the first two single-elimination rounds, the Sky faced the best team in the league this season, the Connecticut Sun, in a best-of-five series.
After taking down the Sun three games to one, the WNBA Finals were set. The Chicago Sky and the Phoenix Mercury faced off in a best-of-five series where Parker played against another WNBA legend, Diana Taurasi.
Taurasi, 39, has played with Phoenix ever since being drafted first overall in 2004. During that time she has won four championships with the Mercury, an MVP in 2009, and is the all-time leading scorer in WNBA history. She was also recently announced as the league's greatest of all time (GOAT) by a vote of the fans of the league.
That did not matter to Parker and the Sky as they won the series in four games against Taurasi and the Mercury, giving Chicago its first WNBA title. In the series-clinching Game Four, guard Allie Quigley led the team in scoring with 26 points while guard Courtney Vandersloot dished out 15 assists. Parker added 16 points and 13 rebounds of her own to contribute to the 80-74 victory.
Following the loss, Taurasi had nothing but praise for Parker. "She's the most talented player I've ever been on the court with, hands down," Taurasi told ESPN. "Her ability to do certain things on the court at the highest level surpasses everyone."
Parker considers this a big moment in her career and an opportunity to silence her critics. "You can mess around and do stuff one time, and people can doubt it," Parker said in an interview with Time magazine. "But if you do something twice, it's not by accident. So I do think this was a legacy-defining moment."
Not only has Parker had tremendous success on the court, but in 2019, she started working as a television commentator for weekday NBA and NCAA games. Following some celebrations, parades and time spent with her daughter, Lailaa, Parker will soon return to her analyst job as the NBA season is already underway.
Despite all the doubts and speculations about her ability, talent and legacy, Candace Parker rose to the occasion by winning a championship with her hometown team and solidifying herself as one of the greatest WNBA players of all time.