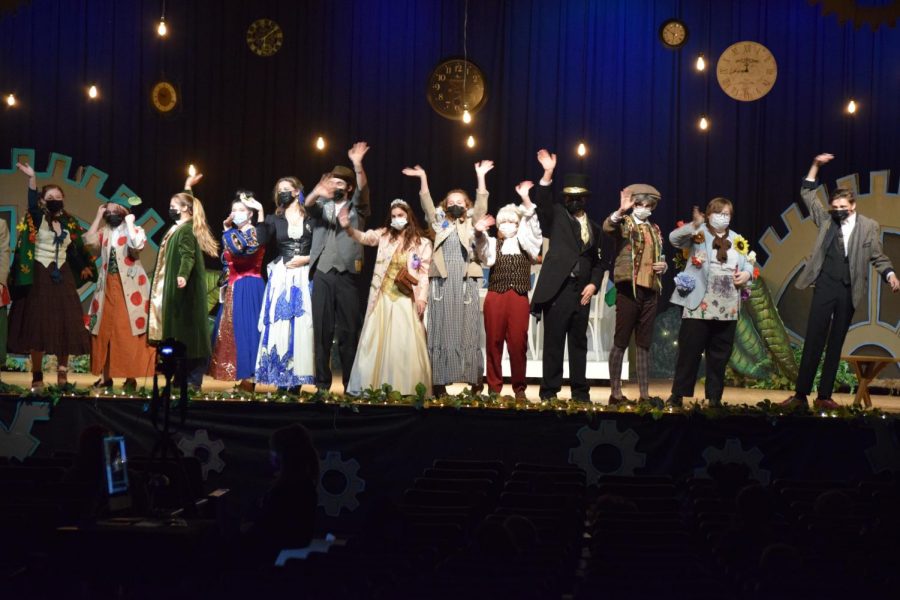 For almost half a century, Stephen Decatur High School has invited elementary students from all over the county and has presented a number of children's plays such as "Jack and the Beanstalk", "Hansel and Gretel," and "Chicken Little."
This year is Decatur's 45th annual Children's Theater play, "Still Life with Iris." Written by Steven Dietz, "Still Life with Iris" is about a young girl who is on a quest  to try to regain her memory. Along the way, she befriends many incredible, helpful characters and soon recovers her memory.
The role of Iris was played by senior Brie Schwendeman, who has been participating in theatre for eight years, and three at Decatur. "I love this production with my whole heart," she said.
Decatur's drama teacher and director, Brandon Cater, has been directing the children's theater here for seven years now. When asked why "Still Life with Iris" was the choice of show he says, "My wife. She looked at it, she really liked it. Also, I felt like getting away from the usual Grimm fairy tales. I read it last year in between classes and I really enjoyed it. You can thank Mrs. Cater for that."
Last year, there was no children's theater show due to COVID-19. This luckily resulted in two theater productions this calendar year, Cater said.
"We ended up running one last spring, which we ran completely virtually, and we were able to get about four to five thousand kids to stream it," he said. "It was really cool. It had a lot of hiccups, but it was really worth it to share  the experience with them."
This year was still impacted by COVID-19 and the crew had to adjust to the circumstances, Cater added.
"We still have some precautions we need to take, to make sure we are keeping our distance and wearing our masks," he said. "We want to make sure all the actors are abiding by all protocols, not only on the stage, but off the stage, so that's been kind of taxing," says Cater.
Cater added that some student performers took ill and had to stay home, "so we ended up having to make some adjustments to cast members," he said. "Fortunately, we had a very strong cast, and we were able to fill in."
Sophomore Saylor Amos, who worked in costume design, said it was really cool being able to come together and bring to life the images they had for the characters. "I hope the kids enjoy the show as much as we did putting it together," she said.
A mix of positive comments from Snow Hill Elementary students included compliments of the set and costumes as well as favorite characters.
"My favorite character was the piano person!" exclaimed a first grader, Luke.
June, a first grader from Showell Elementary School said her favorite part was when Iris ran off the stage.
"This was my first time seeing a play here and I can't wait until next year!" she said.