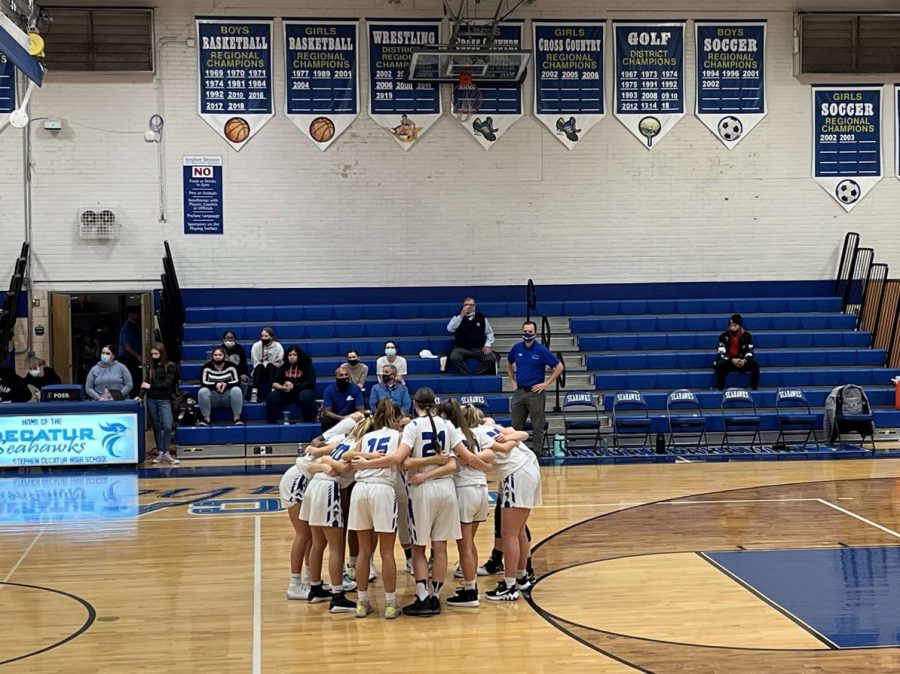 Decatur students, parents, grandparents, and many others enjoy watching winter sports like basketball and wrestling in person at school. Students attending winter sports in Decatur's gym not only display school spirit, but occupies their time after school.
However, Decatur's gym is packed shoulder-to-shoulder during most of these sports, which is not what most people would call "Covid friendly."
For that reason, the Bayside Athletic Conference set new protocols for indoor winter sports, to stop the mass spread of COVID-19. Each winter sports athlete gets one pass that lets them bring four attendees to home games and two attendees to away games. They can change who they bring every game, but are not allowed more than the set number of visitors.
Tickets will be available at the door only for pass-holders, and all winter sports will be live-streamed on the SDHS YouTube channel, according to Athletic Coordinator and Vice Principal Dr. Curtis Bunting.
"We will not be able to fill the capacity in our gym like we were able to do prior to Covid," he said. "We've gotten a few complaints because people want to see our student athletes compete in person. We have a community who's enjoyed watching athletes compete for decades who are now restricted to watching games. It presents a problem not allowing the support of our community who has previously watched the athletes."
Not only are students restricted to a certain number of visitors, but the school is COVID testing unvaccinated athletes every two weeks, per Bayside protocols, according to Bunting. Under the new policy, Decatur and surrounding schools will lose profits that would have come from ticket sales, he said.
Student-athletes say they are feeling the energy change with the smaller crowd.
"It's different now that we don't have a big audience," said Shelby Rosemond, a junior on Decatur girl's varsity basketball team. "Fans always pumped the team up and gave us the extra hype we needed, so now that we don't have that the games don't have the same energy. I hope it will be back to normal soon, because me and my team really miss it."
One exception during the past Fall sports season was that there were no COVID restrictions for spectators attending Decatur volleyball games.
"I'm assuming the thought would be volleyball games have lower attendance than a wrestling match or basketball game," Bunting said.