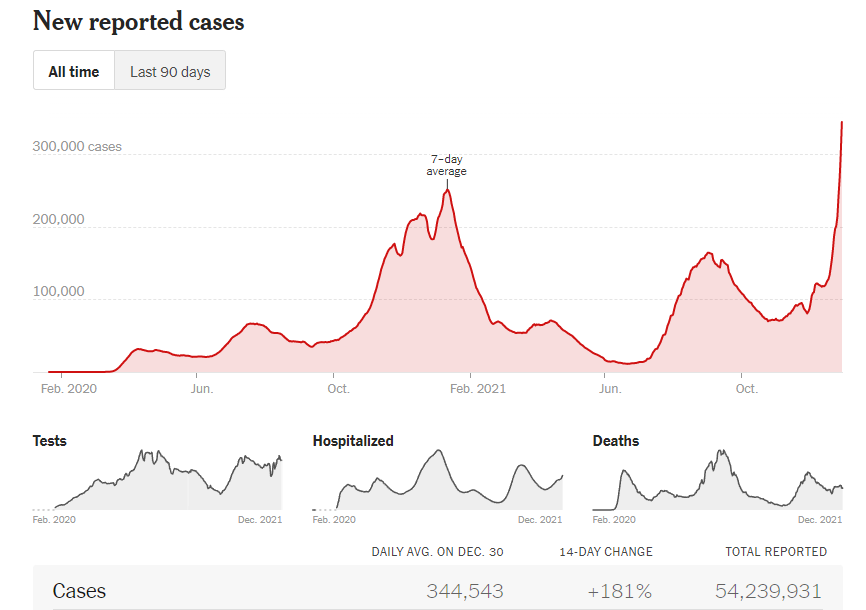 At the end of November 2021, South Africa discovered a new strain of COVID-19. The new variant named Omicron is ravaging the country. The growth in cases is unlike anything the country and world has seen since the start of the pandemic. 
On Dec. 30, 2021, the United States recorded 582,000 COVID-19 cases in just one day. Just one month prior the nation recorded 100,000 cases. This is nearly six times the case count on Nov. 30 and is almost doubling last year's winter peak of cases. Nationwide the country reported 1,400 deaths on the 30th, bringing the national total to 845,000. 
Nationwide hospitalizations are still lower than the Delta variants wave peak, unfortunately, that number is beginning to rise fast. Pressuring hospitals with patients could cause policymakers to reconsider current protocols and possibly implement new ones to suppress this wave of Omicron.
The world today, Dec. 30, had  1.89 million total cases, a record amount three times higher than one month ago. France and the United Kingdom recorded record high case counts along with the United States on Thursday. Worldwide cases stand at 286.8 million while deaths stand at 5.44 million with the United States having 15 percent of total deaths. 
Maryland on Dec. 30 recorded a record 14,300 cases in a single day. According to Maryland's health department, 20 percent of tests administered are COVID-19 positive, this has not happened since the first wave back in April 2020. As of Dec. 30, 2021, the state has surpassed 700,000 total cases and 11,500 deaths.
Most importantly, Maryland now has more patients in the hospital with COVID-19 than any other wave previously. This is putting tremendous strain on hospitals and nurses. 
This surge in cases comes at a time when the CDC announced on Monday, Dec. 27 that people who test positive for COVID-19 will only need to quarantine for 5 days instead of the previous 10 days. Individuals who test positive or negative and are asymptomatic can return to everyday activity after 5 days so long as they wear a mask for 5 days after the quarantine period to minimize the spread of the virus.
The CDC announced this new policy while providing zero evidence for why the changes should be implemented stirring some controversy in the media. 
Studies conducted by the WHO and CDC have concluded that Omicron is more transmissible, however, they are still assessing whether or not it causes a higher risk of mortality.
Currently, deaths remain low in the country and Maryland on a daily basis. However, deaths typically lag behind cases when reported. It appears only time will tell what the full consequences of this new wave will be.
All data has been sourced from the New York Times and the Maryland health department.