Music Appreciation: "Greatest Hits," Waterparks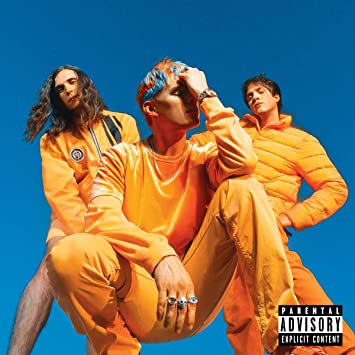 The magic of Waterparks' "Greatest Hits" is the power it holds as a cohesive piece while still allowing each song to exist on its own.
The genre-defying band released "Greatest Hits" in May 2021 under record label 300 Entertainment. Songs are placed together in order to tell a story, with endings that allow one song to gradually flow into another. Waterparks' fourth studio album was designed to be an eye-opening listening experience more than anything else.
The album cover shows frontman Awsten Knight, along with drummer Otto Wood and guitarist Geoff Wigington. Members are posed in gold clothing to resemble the glorified images on a typical 'Greatest Hits' CD.  With past album art displaying different fruits to match the color scheme, this is the first album cover showing any of the members.
Knight has a rare ability known as synesthesia, meaning he sees different colors as he hears music. This has had an obvious impact on not only album art, but the color he decides to dye his hair along with the new era. Greatest Hits brought forward multicolored locks for every color on the rainbow, portraying the wide range created on this album.
In an interview with VMAN.com, Knight reveals that "Greatest Hits" earned its title and color variety because the album represents all the different eras the band has experienced so far in its 10 years together.
Through the years, Knight has become the primary writer for the band. The lyrics mostly focus on his own struggles, and the musical aspect is produced from demos he makes alone in his LA apartment. He runs music by Wood and Wigington to be sure they're willing to perform these pieces live, before moving to the studio to work with different producers.
The title track "Greatest Hits" serves as an album introduction, lasting one minute and 35 seconds. After 20 seconds of quiet background noise such as wind blowing and honking car horns, Knight repeats the lyrics "Last night I had the strangest dream of all." The repetition of this lyric is to set the stage for the following songs, signifying that they'll be part of a "dream" of sorts. A feminine, robotic voice speaks below his singing, ending the song with "these are your Greatest Hits."
Following the title track, is "Fuzzy." "Fuzzy" details the mental battle Knight finds himself fighting nightly against his mental "demons." Despite the depressing message, "Fuzzy" is a bright, pop-sounding song that broadcasts Knight's growing vocal abilities. The song shows off Wignington's guitar skills in a bold solo and a light, slinky beat maintained by Wood's drumming.
"Lowkey as Hell" was the debut single for the album, getting leaked a week before the official single release date by Knight himself on an Instagram Live. With the song playing in the background, Knight cut off all of his green hair himself to mark the end of the previous album era, titled Fandom.
With upbeat drums playing, Knight sings "I just cried into a shirt I could never afford last year." And from there, the lyrics get more glum. The chorus of "Lowkey as Hell" is a call back to the previous album as well, putting a twist on the lyrics "I like cool shirts/ I like cold rings/ I want a big house," from "Watch What Happens Next." In the previous album, these lyrics were used to create a bridge for the chorus, yet in "Lowkey as Hell," he ends with "but I'm hiding." Knight feels as though despite the fact that his past dreams are coming true, the anguish he had been struggling with still hasn't diminished which pushes him to doubt his success.
In the fourth track, "Numb," Waterparks brings out a more hardcore side of the band's skills with loud guitars and frequent yelling. Knight wrote and co-produced the piece alongside Zakk Cervini to create the catchy third single, which Knight leaked early as well during a virtual concert. Fast paced rapping is combined with screaming overtop more pop-punk instrumentals to create a track that is uniquely Waterparks. The catchy chorus says enough to open fans' eyes: "You only like me when I'm numb."
"Violet!" details the experience Waterparks faced with their stalker. The song has a light, airy sound with careful vocals and synth to make it appeal almost as a love song. Throughout their discography, the band's dark lyrics are masked with positive and uplifting sound to lighten the blow. The chorus in "Violet!" is sung from the obsessive fan's view, with flirty and at times twisted quotes like "And the way you tease is unfair/ this ain't misery but I'd break your knees to keep you here with me."
"Snow Globe" is about the toll that criticism from fans and the media has taken on Knight. Unlike any other track the band has put out, it sounds like the sort of song that would be heard in a club rather than at a show for a band with pop-punk roots. "Snow Globe" uses heavy bass, experimental piano, and Auto-Tune to create a modernized single. 
"Just Kidding" is arguably one of the most straightforward songs the band has ever put out. Knight doesn't dance around his feelings with metaphors or deeper meanings here, as he admits over and over again that he'd rather be dead than living the life he leads. If one can get passed the shocking chorus of "I wish I was dead sometimes/ aha just kidding," they'll be able to recognize that the song is addressed to a love interest he finds himself holding these feelings back around. The raw guitar and bass plays with Wood's steady drumming as his heart is poured out about all the fake love he feels himself receiving with the constant turmoil in his life, while his only comfort is spending time in this mystery person's apartment with them.
"The Secret Life of Me" revolves around a reoccurring fantasy world Knight escapes to as he dissociates from his reality. With fast paced drums and experimental keyboards, Knight dives into his life with his imaginary evil twin and all the antics they would get up to.
"American Graffiti" is a pop rock blend that shares Knight's personal perception of himself in comparison to the glorified image his fans have created in their mind. Wigington strums out guitar chords to pair with Knight's vocals that seem to scream 2000's pop, taking the band back to their inspirations. Bands such as Fall Out Boy, Blink-182 and Good Charlotte have had a heavy influence on Waterparks' sound.
"You'd Be Paranoid Too (if Everyone Was Out to get You)" continues to display the paranoia Knight struggles with daily through a song that resembles something by a boyband. It shares the same title as his 2019 book, which is a collection of personal stories and answers to fan questions. As the tenth track, this song has a very bubbly, in your face sound as Knight explains the constant feeling of being watched and lacking trust towards anyone in his life.
"Fruit Roll Ups" is a corny ballad in which Knight details an ideal night with the girl he's interested in. Differing from the usual fast paced music the band frequents, slow guitars and light synth create the sensual atmosphere that frames the only love song on the album.
"LIKE IT" is another song on the album that carries multiple layers to the sound to truly portray the hectic feelings described in the lyrics. Venting about everything that angers him, Knight finds himself yelling over bold guitars and more of his electronic layers. The chorus, with backing vocals from De'Wayne Jackson, is like a mix of Linkin Park and The Beastie Boys.
Despite it lacking any lyrics and relying on a intricate bass solo and electronic sound effects, "Gladiator (interlude)" relays an interesting connection between modern public figures and the gladiators of Ancient Rome. A voice memo of Josh Madden speaking on this connection explains gladiators were pinned against each other in the same way public figures are now, even if there is no desire to harm one another on a personal level- but merely to let their career survive.
"Magnetic" is about the constant feeling of attracting something you're sure you don't want, yet not being able to stop yourself from being drawn to it. Knight relies heavily on self criticism in the lyrics to point out the internal struggle he faces. This tormented expression of feelings is paired with intense, heavy electronic sounds as well as the harshness only rock can bring out. Wood's drumming moves the fierce piece along.
"Crying Over It All" details Knight's fears about the future, once the band has concluded and all the fans have moved on. Its' lyrics center around a sort of existential dread as well as the remaining hope that someone will still care about his work. "Soon everyone will be gone/ They'll forget my albums,/I Hope you'll be here when it's done," is sang in a tempo that slowly increases through the pre-chorus before Knight reaches the soft, harmonic chorus. Fan or not, "Crying Over It All's" heavy lyrics mixed with it's airy vocals and powerful build will tug at anyone's heartstrings.
"Ice Bath" is a short but hard-hitting song intended to represent waking up from this daydream Knight has escaped to for the majority of the album. It's a song about accountability and accepting his own faults, a message sent through distorted vocals and EDM-style sound effects. Consistent bass drums contribute in the building intensity of this track that's paired with electronic sounds.
Originally, "See You In In the Future" only had one In, but after a fan experienced a tattoo mistake, the band decided to do them a favor and change the title on all platforms to match their tattoo. With fast-paced rapping, Knight rants about all the things that leave him frustrated in daily life. After 'waking up' in "Ice Bath," this song focuses on all the external forces he feels tearing himself down. Knight sings these lyrics over horror movie sound effects as well as piano keys he decided to add. The nature of this song is similar to "Ice Bath,"  carrying many of the same features that make the piece whole. The entire song screams chaos, and that's exactly what a band like Waterparks needed to sum up their real life.