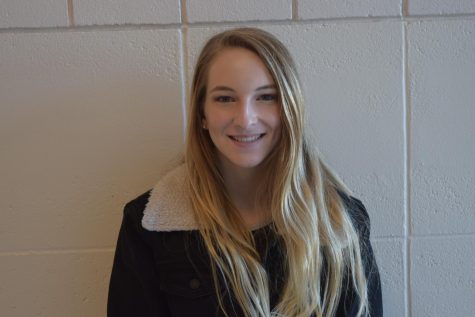 Sophomore Jenna Bradford is a new journalist for
The Hawk
. She is the new Feature Editor and photographer. She took Intro. to Publications her freshman year and is now excited to be apart of Newspaper Production.
  Jenna is a published author of a children's book,
Life in a Fairytale
. She enjoys writing short stories and books in her free time. She enjoys traveling and has plans to travel across the world in the future. She is also a fan of photography and enjoys going out to take pictures.
  Bradford enjoys writing articles for newspaper and she aspires to be a journalist after college with major publications. She hopes to be able write stories, as well as edit them for issues that face the world.
Jenna Bradford, Feature Editor/Photographer
Jun 12, 2018

Let's Intro[duce] you to theatre

(Story/Media)

Jun 06, 2018

Best vacation locations

(Story)

May 29, 2018

Mirror-touch: reality or fiction

(Story)

May 24, 2018

Recycling: not just for paper

(Story)

May 22, 2018

Denault driving towards diversity

(Story/Media)

May 11, 2018

Entrepreneur creates Island 51, music production company

(Media)

May 08, 2018

Man's best friend

(Story)

May 02, 2018

EverFi certification for 46 students

(Story/Media)

Apr 12, 2018

Hidden Ingredients in Mario Badescu products

(Story)

Mar 26, 2018

2018 Fashion show unveils odd looks

(Story)

Mar 15, 2018

Sneak peak behind the scenes

(Media)

Mar 14, 2018

Column: My experience in a sensory deprivation tank

(Story)

Mar 12, 2018

Decatur falls to Poly Tech

(Story/Media)

Mar 05, 2018

Microneedling: improving the skin in a new way

(Story)

Feb 09, 2018

Second Delmarva Blood Bank drive in the works

(Story)

Feb 08, 2018

Puerto Rico following Hurricane Maria

(Story)