New library layout a success story
There are more than 1,400 students at Stephen Decatur High School, and at least 150 of them are in the school library every day.
A lot of students say they academically do better in the library than the day-to-day classrooms. Often, kids walk in and see friends, sit with them, and then they work peacefully. The library is a privilege for kids with good grades who have a good work ethic. They tend to be in the library by themselves more often than kids who can't work well by themselves in the classroom. Students and staff are in and out of the library all day long.
When entering the library, you see many students filling all the tables. It is hard to know who is there to work and who is there to hang out. At the circulation desk, you find all the signed notes with teachers allowing students to do their schoolwork in the library.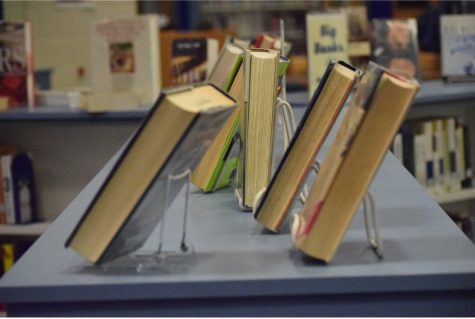 Brittany Tignor has been a librarian for 11 years at previous schools. However, this year, Decatur is a brand new school to her.
When Mary Cosby, who retired last year, was the librarian, the rules in the library were very different. There was no eating allowed, no loud noises, there were no real groups working together, and no people just sitting around or even doing schoolwork.
When librarians changed, and Tignor came into the position, rules were changed, furniture was moved, and more student wanted to be in the library. More students talk to the librarians and enjoy doing their work.
Tignor said she believed with the furniture moving and opening up space, people would be more comfortable in the library. With the newly-moved furniture, people were allowed to work in small groups, yet still remain separate from the rest of the kids.
Lola Imbrenda, a senior, said she finds the library a safe, and quiet space. Not to say her teachers are not kind and wonderful, but the librarians are above and beyond sweet, and Imbrenda said she loves them. She works by herself and her earbuds in peace everyday.
Imbrenda said she has a fifth-period class where, as a senior in a class with many freshman, it can get pretty obnoxious sometimes. The noise and petty arguments can become too much for Imbrenda to be able to concentrate on anything.
The library allows Imbrenda to do her work at her own pace, rather than following along with the teacher. This gives her time to think and process for herself the topic of which she is learning. With this new found freedom she never falls behind, but she focuses easier on her work.
"The librarians are great, and it is a great place to work when you feel overloaded with work," she said.
Without the teacher, working by yourself can be a little difficult. Imbrenda said she sometimes meets friends in the library to work with each other, yet separately. She added that the people in the library are the best part of the library.
Ny'Ashia Harper is a junior who said she enjoys working in the library often. The atmosphere is calmer and overall better than any other classroom, she said.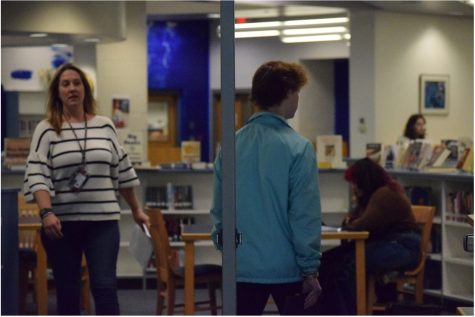 In the library, Harper feels like she has more space without anyone surrounding her, and there is no pressure of getting the work done at the teachers pace. You can do work at your own pace and still not fall behind.
When other people need help, it is quiet in the library, so you don't have to listen when you don't need help. Instead, you can work with your friends and still get things done all on your own, Harper said.
According to Harper, the library is more of a privilege, and not everyone gets that privilege; there are those who are responsible, and can stay on task, however, other people struggle to stay on task, and they end up not doing anything.
For Harper, this is not typically the case, she said. She goes into the library and tries to sit in the same spot everyday. The teacher allows around four people to go the library often times, including herself.
Ava Becnel sits in the library every day to get her work done individually, at a table by herself, in the quiet and peace of the library and zero distractions.
She is currently in her senior year, and did not always go to the library very often. Rules were different and even if you were a responsible kid, who could handle the freedoms of being in the library, it was just not an option.
For Becnel, the library is a spot where she can get her work done at her own speed. She has more freedoms, and individuality in the library that she enjoys more than she would in the average day to day classrooms. Her pace, she said, is much faster than it would be in the classroom, and she feels like in the library she can get more work done.
With this, Becnel has come to find not all kids can handle being in the library without an adult. Becnel considers herself to be a pretty responsible kid, who can handle having freedom, and still choose to do the right thing on her own.
"I really appreciate how it is here as a resource here for people, and basically the freedom, and there is tables to sit wherever you want. No one is telling you what to do," she said.
Freshman Caniya Smith did not have the same intentions of being in the library for school purposes.
Smith feels her fifth-period Algebra class happens to be very hard, and she finds herself needing a break every now and then. Instead of going to the library to do her schoolwork, she went for the first time on January 9, to just sit and relax. The librarians she said does enjoy being around. She sad they are super kind and helpful in any ways they can be.
Smith does not go to the library every day, or even in the same period. She hardly goes once a week. She finds the library is a "dry" place to be, but it is a safe spot compared to being out in the hallways just walking, or standing around.
Charlie Greenwood is an 11th-grade student who excels in his academic life. During the first semester of this year, he signed up for an asynchronous dual enrollment class, taking environmental science. Since the dual enrollment class is asynchronous, and you need to find a place to do the work, it is mandatory that the class is taken in the library.
Due to it being a self-taught class, Greenwood asked the librarians and english teachers for help. Being in the library gave Greenwood access to many more resources than a classroom does. There are more books, students, teachers, and librarians, to talk to and use compared to in a day-to-day classroom.
Greenwood said he does not mind this in any way. He enjoys the quiet workspace, making it much easier to concentrate then in a regular classroom. Working in the library has taught Greenwood many things, he said, and has helped him learn many more things while in his environmental science class.
In his previous years of being at Decatur, Greenwood said the library was not a common place for him to be found. With the library being much more strict, it was not as great of a place to work. It was a more quiet, get down to the point type of place.
This year, "I think it is a really good space, with a lot of resources that a typical classroom doesn't have," Greenwood said.
Next semester, Greenwood said he plans to take an AP Calculus class, but he still would like to be able to work in the library, and have access to just as many resources.