Teens Talk Tattoos
"Let them say what they want to say," said Braeden Baumann, a junior at Stephen Decatur High School, when asked about his feelings towards people who disagree with teenagers getting their bodies tattooed. 
Baumann has two tattoos, one on each forearm. On his right arm, he has a cross with numbers. On his left arm, the character Morty from the television show "Rick and Morty" is seen in color. His brother's tattoo has the other main character, Rick. 
"This one is for the remembrance of my father," Baumann said, "and the one on my left is one that me and my brother got." 
Baumann,16, is just old enough to receive tattoos legally in the state of Maryland. He doesn't think he got it too early, he said, though he does regret placing them on his forearm, because he now wants a sleeve for his full arm.  
These tattoos holding meaning to him, which he says should be an aspect for teens to go by when getting inked.  
Making the decision to get inked as a high school student is something that will stick with them for the rest of their lives, and it holds different levels of importance.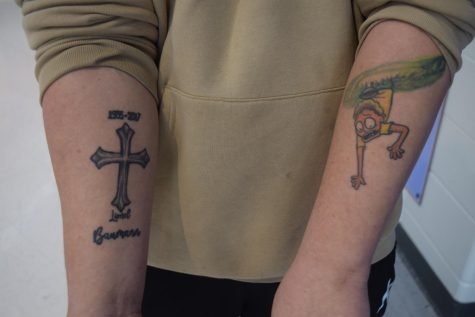 Different areas in Maryland carry different government rules and regulations when it comes to tattooing minors.
In Ocean City, the law states is illegal to tattoo any minor, regardless of consent from parents or guardians. In other surrounding areas,  like Salisbury, Maryland, or Millsboro, Delaware, adolescents with parent approval can get tattoos starting at age 16.
Many see the process of getting inked as trashy – a regret waiting to happen, a coping mechanism, or for an abundance of other reasons. While tattoos could purely be just to say they have one, or for social validation, teens do say that being able to express themselves through art calls for a sense of identity.  
Gia Antimary, a junior, said once a teenager looks old enough, and has matured enough, they should be able to get any tattoo they wish. She has a tattoo with Roman numerals on her collarbone: the numbers 4/13/18.  
"It was when my mom passed away. I got it on my seventeenth birthday in December, and I think I got it at the perfect time," Antimary said. She said she'd been wanting the tattoo, and the age she is now felt appropriate due to maturing. She also said her tattoo is a coverable place that won't be exposed.
When asked about placement and making a final decision, she said, "I had the artist redo the outline twice so I could get it perfectly and just how I wanted it."
Antimary added that, for a tattoo that will be present forever, it is important to make sure it meets expectations – don't settle for something that you will later regret.   
"I think if teens get meaningful tattoos then that is great," she said, "but if people are just getting them for the fun of it, that's where I don't agree with it."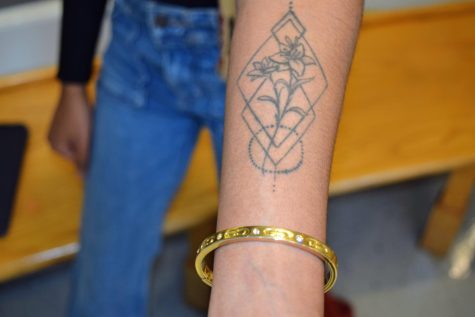 The negative stigma on tattoos is still in effect. Society is constructed to believe that getting inked can potentially ruin their future. Many see it as a way to rebel, a silent way to represent oneself as unprofessional, or even show that you have lower levels of competence. For decades, these assumptions have stuck with today's adopted standards, but increasingly more and more people have decided to just do it for themselves.  
Many young teens are told not to get tattooed in certain places, due to finding a job in the future that finds them unacceptable. Now that the percentages of teens participating in getting inked has been rapidly increasing over the years, the question remains whether or not professional jobs will even be able to decline workers solely for the reason of having an exposed tattoo. 
"If you like it, get it. If you don't like that someone got it, then you don't have to get it," Antimary said.
Senior Imani Eshe has tattoos covering both arms, and a rib piece as well.
"This one is for my grand-mom's birthday in Roman numerals," she said of her rib tattoo.
Eshe explained that she, her nana, and her grand-mom all share a love for floral designs, so for that reason she has flowers incorporated into the various tattoos on her arms.
"I have a lightbulb on my upper arm, and it's broken. It means to explore outside of your boundaries," Eshe said.
As her tattoos can be mostly hidden, Eshe explained that finding jobs hasn't been a struggle, emphasizing that it depends on what career path you take.
Eshe has no regrets. Getting tattoos in high school is "a way for students to express themselves creatively," she said. "I think that if they feel the need to be a piece of art, that's what they should do."